Mountain Biking
Mountain Biking on Teton Pass, Photo: Fred Marmsater.
Learn what it means to ride brown pow.
---
Fast-flowing singletrack for every level of adrenaline junkie. Here you can ride for an hour or an entire day.
There are flowy cross-country trails that cut across hillsides covered in wildflowers and through forests, technical downhill trails, and bike parks where lifts do the hard work of getting you uphill so you can catch as much (or as little) air as you want on jumps and features on the way down.
Downhill riders can head for the Jackson Hole Mountain Resort (JHMR) bike park or the south side of Teton Pass. JHMR has 21 buffed and banked trails graded similarly to ski runs — green, blue, and black. If you like climbing as much as descending, the 40-plus trails at Grand Targhee Resort and the Greater Snow King and Cache Creek trail system skew more cross-country. Cache Creek is the closest place to ride, just outside of downtown Jackson. Here's to a season full of brown pow.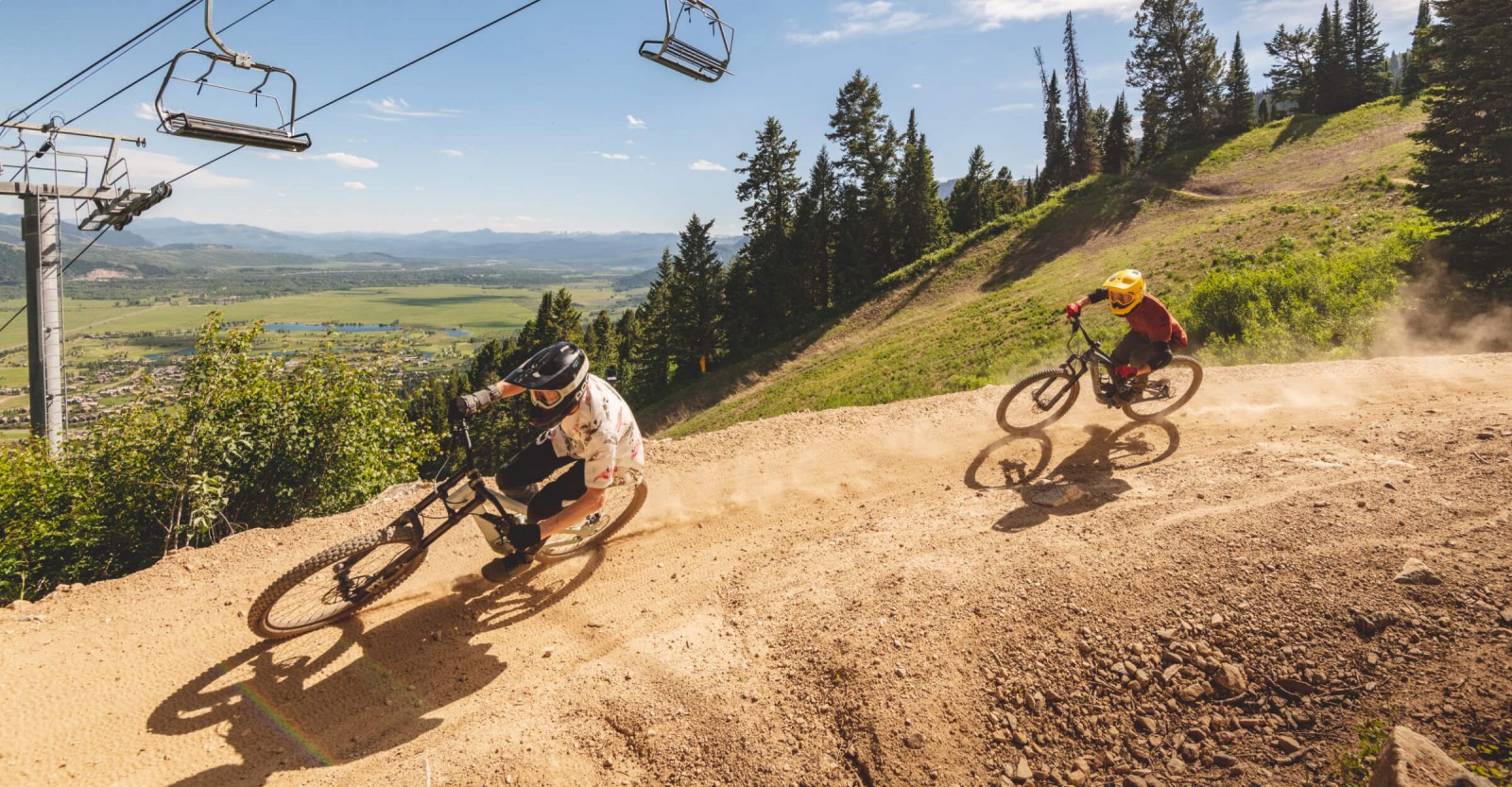 How to have a great mountain biking experience in Jackson Hole
Be Prepared
Check the weather and current trail conditions (any local bike shop can help you out with the latter).
Brush up on etiquette for multi-use trails: mountain bikers yield to all other users, including hikers and especially horses.
Have maps — analog, on your phone, or GPS — of the area you're riding in, as you won't have reliable service.
If you're riding in the Bridger-Teton National Forest, carry a flat-tire repair kit and a basic first aid kit in addition to bear spray. Black and grizzly bears have been spotted on and around popular trails.
Mountain Biking for all Abilities
The JHMR bike park has spent the past several years making all of its trails accessible to adaptive riders, and all new trails are designed and built to be accessible. "We have a pretty adaptive-friendly bike park now," says Pierre Bergman, an adaptive rider (and racer) and member of the JHMR bike park trail crew. "The staff is well-trained. They know what to do if they see an adaptive bike, which is not the case at every resort."
Questions about mountain biking in Jackson Hole
Thank the Teton FreeRiders
Teton FreeRiders worked with the Bridger-Teton National Forest to develop user-specific and directional downhill trails on Teton Pass. The resulting trails are the first user-specific trail system in any national forest in the country. If you're planning on riding in this zone, familiarize yourself not only with the trails that allow mountain bikes but also the trails that are downhill-only. Riding up a downhill-only trail is dangerous.
If you ride any trails outside of the bike parks at JHMR and Grand Targhee, chances are high that you can thank the Teton FreeRiders for maintaining them. The nonprofit created the downhill trails on Teton Pass. If you enjoy these trails, consider making a donation to the all-volunteer-led nonprofit.