A Climber's Guide to Jackson Hole
Rock Climbing at Blacktail Butte, Photo: Fred Marmsater.
With rugged mountain terrain and stunning natural beauty, it's no wonder that rock climbing has become a popular activity in Jackson Hole.
From beginner-friendly routes to advanced climbs that test even the most seasoned climbers, Jackson Hole offers a variety of options for all skill levels and styles of climbing. Whether you're looking to push yourself to new heights or simply enjoy the breathtaking views, combine climbing with cardio or take a chairlift to the crag, rock climbing in Jackson Hole is an experience not to be missed.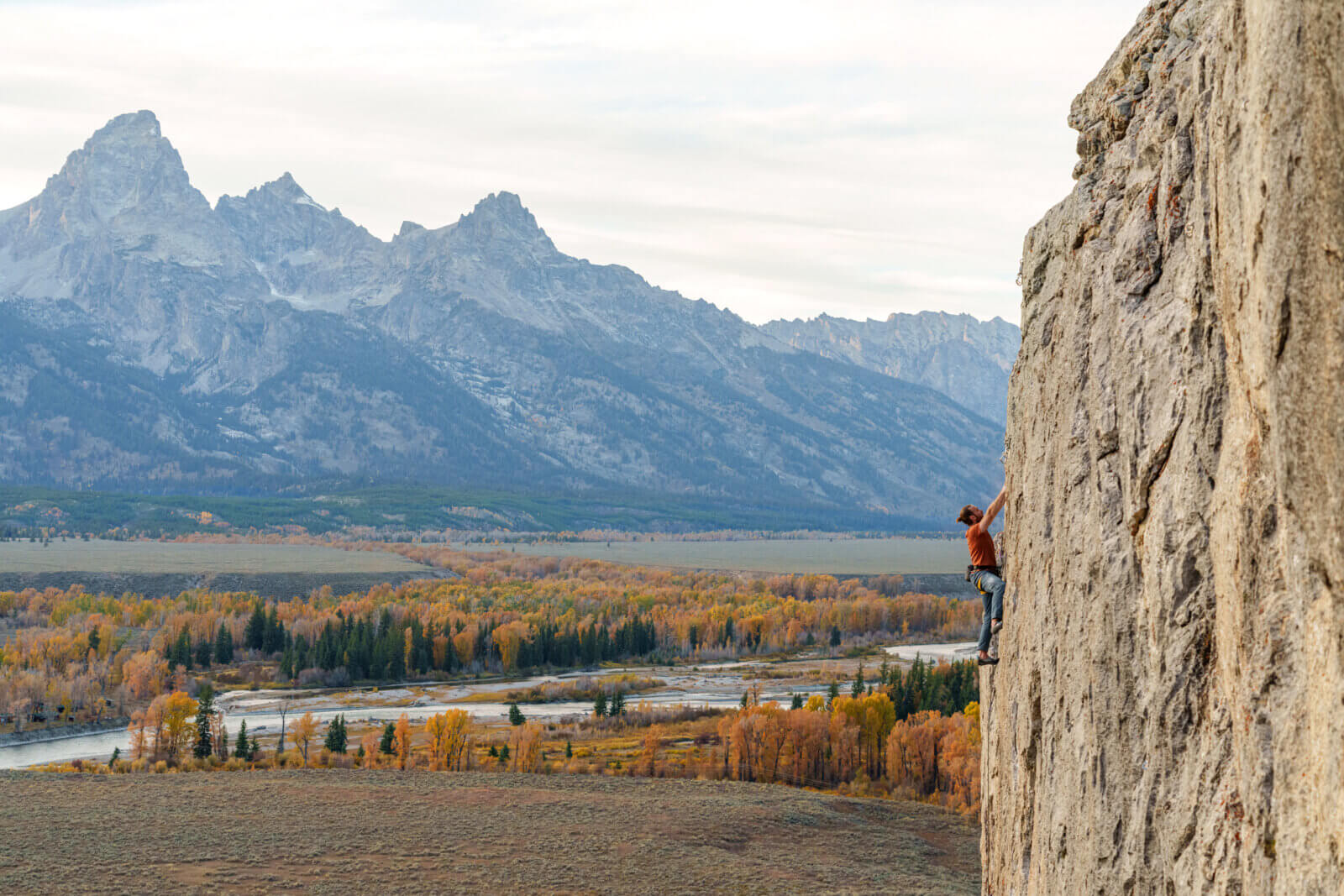 Jackson Hole Mountain Resort
Jackson Hole Mountain Resort is the ultimate playground with options for every person, every ability level, and every ounce of "try hard." From the children's climbing wall at the base of the resort to the 300-foot Rock Springs Buttress, you can choose your own adventure with the resort's variety.
Rock Springs Buttress is highly recommended for expert climbers. West-facing with afternoon sun, the massive fractured and weathered granite buttress features sport, trad, and mixed climbs up to seven pitches long. Often considered to be a little sandbagged, this alpine crag is guaranteed to bring a bit of grit and a big smile. Pay for a day pass to ride the tram to the summit of Rendezvous Mountain and hike down to the buttress for a more leisurely approach, or approach from the bottom on a steep and overgrown climbers trail. Be sure to bring your backpack with you as you climb or hang it off the ground, as the marmots in this area are extra mischievous.
The Happy Hour Wall is a recently developed alpine sport crag that receives afternoon shade and is located just above the Bridger Gondola (where many go for happy hour on the patio). The wall features steep climbing with big holds and is the region's best moderate climbing zone nestled in a beautiful alpine setting on the northern end of Tensleep Bowl. Take advantage of the gondola ride (free after 5 p.m.) and climb until dusk, enjoy a snack at the Bridger Gondola, then casually ride the gondola back down to the base of the resort.
Grand Teton National Park
Climbing in Grand Teton National Park is for experienced climbers or those with a certified mountain guide only. The park's towering peaks, stunning vistas, rugged terrain, and challenging route-finding offer a rewarding experience for climbers looking for a full day of multi-pitch trad climbing.
Expect to start your multi-hour approach hike (with guaranteed elevation gain) at sunrise, be prepared for ever-changing mountain weather, and practice proper climbing etiquette since you might be sharing the route with other parties on a weekend (especially on the Grand Teton). Be sure to check with climbing rangers about current snowpack conditions, as many alpine rock climbing routes require crampons and ice axes. If your objective includes an overnight, camping permits are required.
If a day of single-pitch sport climbing is calling your name, Blacktail Butte is situated across the street from the Moose entrance to Grand Teton National Park. Perhaps the most scenic crag in the country if we do say so ourselves, multiple walls of limestone provide approximately 20 technical and polished climbs, generally ranging from 5.10 to 5.12 (intermediate to hard).
Snow King boulders
No experience necessary: the Snow King bouldering park is welcoming of all ages and ability levels, and it's the perfect place to pair a climbing session with a picnic, gondola ride, or hike. Designed as a memorial to mountaineering in the Tetons, the bouldering park honors the history of mountaineering in the valley and the climbers the community has lost to the mountains. It's the valley's only public artificial rock climbing area and a popular after-work gathering spot.
Looking to climb in the Tetons? Hiring a guide with Exum Mountain Guides or Jackson Hole Mountain Guides is a great way to safely and confidently explore our local limestone and granite climbing destinations.
---
From awe-inspiring encounters with nature to wild and western activities every kind, Jackson Hole offers once-in-a-lifetime experiences, 365 days a year.
Eager to glimpse your first bear, moose, or wolf? Challenge yourself with a run down black diamonds or class III rapids? Hook an 18-inch cutthroat? Meet a real cowboy? Watch a Teton sunset? This place is full of experiences you won't find that at home, or anywhere else for that matter. In Jackson Hole, wild adventures aren't just possible—they're already here waiting for you.