A Local's Guide to Intermediate Skiing in Jackson Hole
It's December of 1997. I have finally come to a stop and am spread-eagled, my head pointed downhill and my ski-booted feet uphill, in the middle of Jackson Hole Mountain Resort's Sleeping Indian run.
I catch an edge close to the top, and the next thing I know I'm speeding, upside-down on my back, down the run a liftie had told me was a good option for my self-professed intermediate skiing abilities.
Jackson Hole's blue runs are not like those I've skied at other resorts. I resolve to ski the rest of the season at Grand Targhee, which is a longer drive—it's on the western side of the Tetons—but has a reputation as being a great resort for intermediate skiers. Fast-forward to 2020 and I'm no longer an intermediate skier. But if I were, I'd no longer have to drive to Grand Targhee. The 'Ghee is still great for intermediates, but both Jackson Hole Mountain Resort and Snow King, which is the oldest ski resort in the state of Wyoming and only about five blocks from downtown Jackson, are completely transformed as far as their options for intermediates. Today intermediate skiers can come to Jackson Hole for a week-long ski vacation and ski every day. Here's where I send visiting friends and family who are intermediate skiers.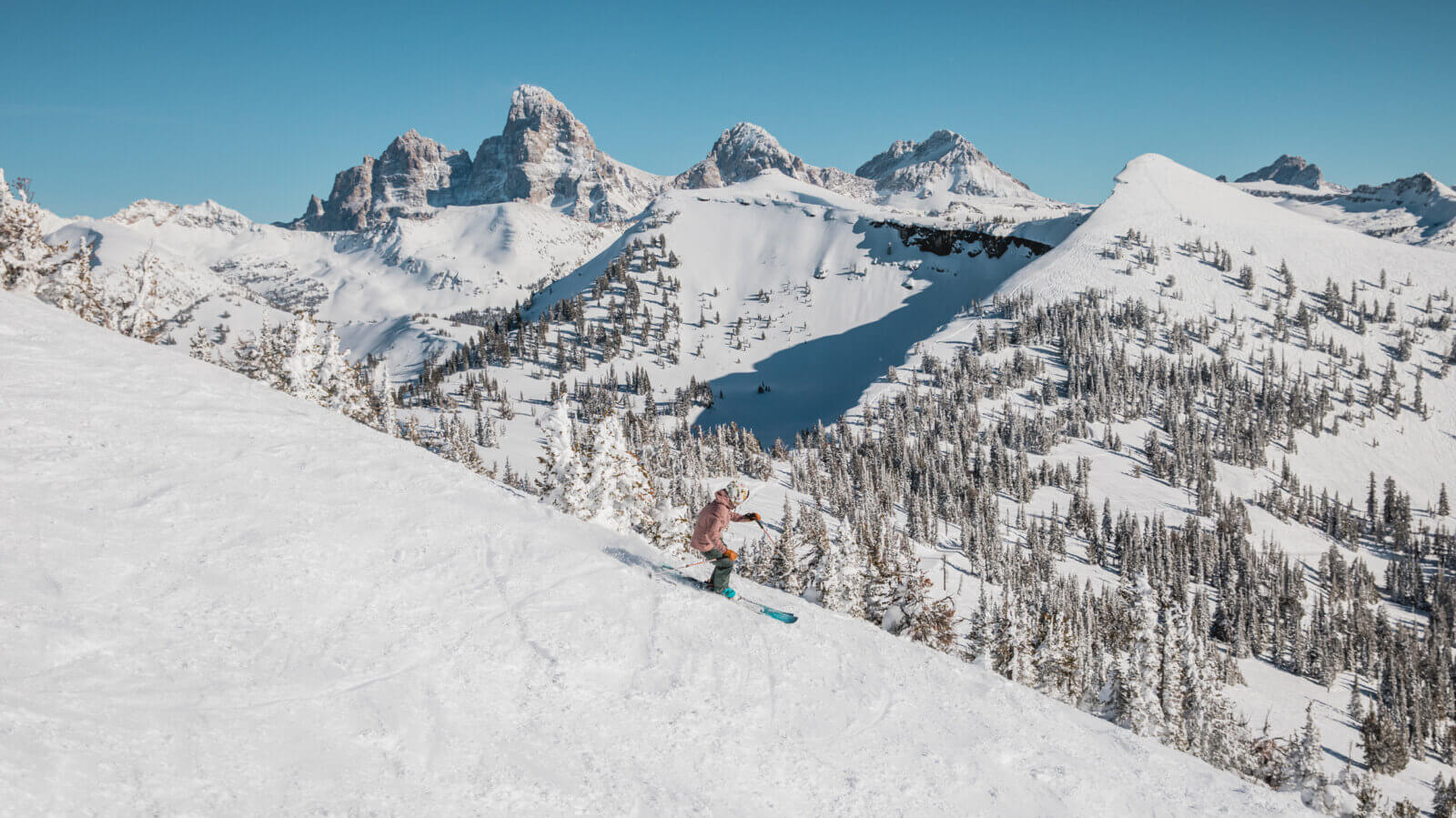 Jackson Hole Mountain Resort
Casper, Casper, Casper. Jackson Hole Mountain Resort's original Casper lift dated from 1974 and took 10 minutes to carry skiers up about 1,000 feet. Yes, it served the resort's easiest intermediate terrain, but riders definitely felt like second-class citizens, especially since it was sandwiched between the much newer/fancier Bridger Gondola and Après Vous lifts. In 2012, though, the old lift was replaced with a high-speed quad that made riders feel like kings and queens: It knocked the ride down to about three-and-a-half minutes. At the same time, three of the most popular intermediate runs off this lift were regraded to be even more intermediate-friendly. The Easy Does It run lives up to its name. Sleeping Indian, despite the time it made me cry, is a good run to progress to when you're finished doing it easy.
Jackson Hole Mountain Resort gave advanced intermediate skiers an amazing gift to celebrate its 50th birthday in 2015: new blue runs and a new chair lift to access them. The Teton lift climbs 1,700 feet, depositing skiers and riders at the top of what used to be mogul-y, off-piste terrain. The Crags run to Moran back to the base of the Teton lift are favorites of mine. I give the Teton lift extra points because it rarely has a line.
Advanced intermediates also need to hit Rendezvous trail, off the Sublette lift (a quad). At 9,902 feet in elevation, the top of Sublette is as high as you can get at Jackson Hole Mountain Resort without taking the tram (which only accesses expert terrain). The views of the valley from here are literally awesome. Rendezvous trail—R trail if you want to sound local—is one of only two blue runs off Sublette and is by far the better of the two. (The other blue is pretty much a glorified cat track.)
Snow King Resort
Snow King Mountain rises about 1,600 vertical feet above downtown Jackson and looks intimidating to all but the most expert of skiers. The most visible run is a double black diamond, Upper Exhibition, which is rumored to be among the steepest of any inbound run in the country. Stop gawping at Exhibition and the crazy skiers flying down it, though, and you might notice the runs on the bottom half of the mountain. These are wide and groomed, and from them you get fabulous views of the town of Jackson, the National Elk Refuge and the Tetons. Also, Snow King's lift ticket is the least expensive of the three resorts profiled here. The King isn't big enough (three lifts) to occupy a skier at any level for more than a day, but it's worth checking out.
Lower Elk, off the Cougar chair, is my favorite blue run at the King, although it's not the easiest. (That distinction goes to Kelly's Alley, off the Rafferty chairlift on the eastern side of the resort.) Ski Lower Elk and you're skiing in the tracks of Olympians such as Resi Stiegler and Breezy Johnson, and X Games gold medal snowboarder Travis Rice: The Jackson Hole Ski & Snowboard Club, which Resi, Breezy and Travis are alumni of, trains on Lower Elk.
While Upper Exhibition makes the top of Snow King Mountain look pretty terrifying, there's a way down that intermediate skiers can enjoy: Slow trail. You want to ski this run because, as good as the views are from the King's mid-mountain blue runs, the views from the top of this trail are even better. Slow trail is actually designated a green (beginner) run, but don't be deceived. The one time I sent a beginner skier friend down it, our friendship, along with her life (as she tells it, at least), almost ended. Relative to Upper Exhibition, Slow trail is not steep, but it is narrow—in the summer it's a service road—and switchback-y until it deposits you at the top of the mid-mountain Cougar lift. From there you can hit Lower Elk or Kelly's Alley.
Grand Targhee Resort
At Grand Targhee, intermediates can take any lift—there are five—and need not worry they'll find themselves at the top of something that only has black diamond runs. The two major mountains that make up this resort—Fred's (9,862 feet) and Peaked (9,830 feet), both a 90-minute-drive from downtown Jackson — have more blue than black runs. On Peaked, which is serviced by the Sacajawea lift, I love the Dreamweaver run. Still, every time I go to the 'Ghee, my first run is always a long traverse down from the top of the Dreamcatcher lift on Fred's Mountain: Headwall Traverse to Blackfoot Traverse to North Boundary Traverse. These are all blues and aren't the most exciting terrain, but the views of the backside of the Tetons from the top always take my breath away. Also, this traverse, which is looooong, is a great way to check how all the other blue runs off the Dreamcatcher and Blackfoot lifts look.
For intermediates aged 15 and older looking for a lesson, Targhee's Tune It Up intermediate package is a great deal: a two-hour group lesson and an all-mountain lift ticket for $139. These are offered twice daily (morning and afternoon). For intermediates who want local insight into the resort (including après options) but don't want a lesson, there's a free 90-minute mountain tour offered daily. It meets next to the mountain tour flag at the base of the Dreamcatcher lift at 10:30 a.m.