All Roads Lead to Jackson Hole
Destination, Jackson Hole.
---
An open road combined with a loose itinerary offers unparalleled opportunity.
There's no better time to seek that open road freedom than during the spring months. And there's no better road than the one that leads to Jackson Hole.
Once the ski season ends, Jackson comes to life. Trees and wildflowers bloom, wildlife emerges from hibernation and begins migrating back into the mountains, often with babies in tow. Just remember that spring in the Tetons, though full of emerging life, is only for the prepared. Make sure to check weather forecasts and take your time on the way to Jackson Hole.
Town during this time, meanwhile, is quiet and peaceful. The valley seems to move in slow motion as it thaws after a long winter. Remember to be patient. From the comfort of your car, you can take it all in and take your time. Get lost in the heart of the American West and find yourself in Jackson Hole. Here are a few ways to do it.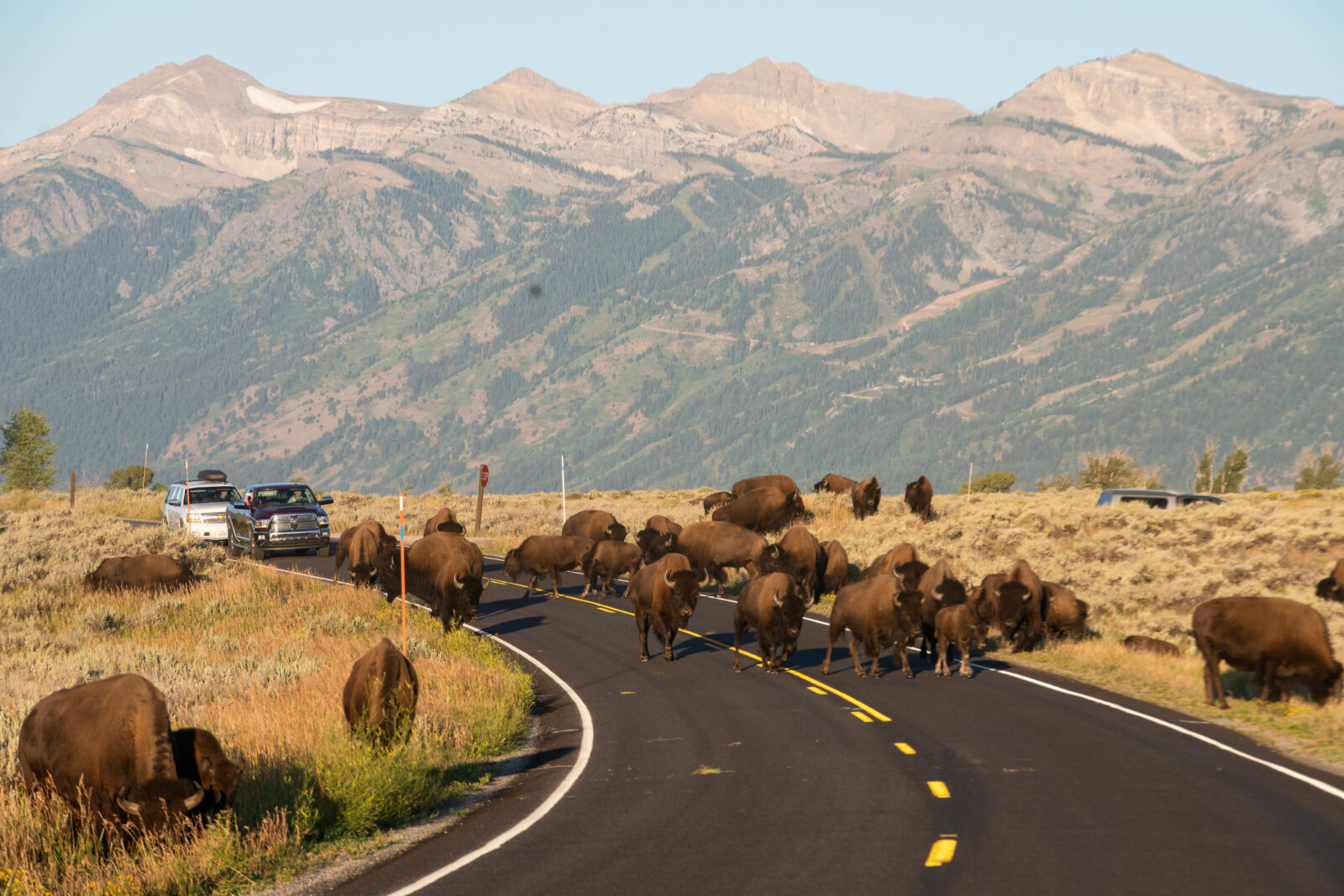 From Montana
A drive from Montana will take you through some of the finest public lands the lower 48 has to offer. From Bozeman, your GPS might try to take you around the scenery through Ennis. Ignore it. Instead, drive through the Gallatin Gateway and the Custer Gallatin National Forest. You'll pass Lone Peak, the mountain that defines Big Sky, and wind along the Gallatin River. You'll even enter Yellowstone National Park without passing an entrance gate. Keep a sharp eye out for wildlife along the road. Then stop for a meal in West Yellowstone, a gateway town full of Western charm.
On a sunny day, the Tetons will come into view long before you arrive in Teton Valley. Stop one more time for a huckleberry milkshake at the Victor Emporium in Victor, Idaho, before tackling the final stretch over Teton Pass, a steep and winding mountain pass connecting eastern Idaho to western Wyoming. It's all downhill from the top of the pass, but be sure to put your car in low gear on the way down to avoid riding your brakes.
Finally, you'll arrive in Wilson, Wyoming, just a few miles outside of Jackson but an essential part of the valley. Unwind with a well-deserved beverage and meal with Streetfood at the Stagecoach Bar.
From Utah
There are a couple of quintessential rural mountain pit stops between Salt Lake City and Jackson that will help orient you on your journey. You can pick and choose or see them all in one go.
First: Bear Lake. The drive out of Salt Lake City to Bear Lake is completely unpretentious in its scenery. Past Logan you'll follow the Logan River, where there's rock climbing, camping, hiking and river bathing nearly every inch of the way. And then, of course, there's Bear Lake itself. It won't yet be bustling with summer crowds, but it's worth a stop at this mountain beach oasis any time of year. It's split almost right in the middle by Utah and Idaho, but you might for a moment think you're on a tropical ocean beach.
A close second: Lava Hot Springs. There are two advantages to this stop. One, you're on a scenic and historic route to Jackson. Two, a warm and welcoming experience awaits. Lava Hot Springs is a town on its own, named for the spring that feeds the public pools. Those are the main attraction — and they're fun. Diving platforms and water slides draw families to the main waterpark. But there are mellower soaking pools too. And there's plenty of lodging in the area, including several campgrounds.
Just past Lava Hot Springs is Soda Springs, which was once an oasis along the Oregon Trail. It's now home to the world's only "captive" geyser, which means it's capped and controlled by a timer. Water erupts 100 feet into the air every hour, on the hour, 365 days a year. Near Soda Springs, you'll also find the Grays Lake National Wildlife Refuge, home to the world's largest concentration of greater sandhill cranes. Be sure to stop here to view the cranes as they begin to nest in the refuge in early April.
All three stops will eventually take you into Jackson by way of Thayne, Alpine and Hoback. The road between Alpine and Hoback, known as the Snake River Canyon, can be harrowing in the wrong conditions. Alternatively, on a warmer sunny day, you might be able to spot some brave souls running the Snake River Canyon in a raft. A pullout allows spectators to look out at Lunch Counter, one of the bigger rapids on this whitewater stretch.
Remember, there's no rush! Jackson isn't going anywhere. Stop at The Bird to refuel with a hearty burger before continuing on your journey.
From Colorado
There are all sorts of fun ways to get to Jackson from Colorado, but spring is the perfect time to take the road less traveled. Colorado's Western Slope won't be too warm yet; spend some time mountain biking in Fruita and Grand Junction, then go wine tasting in Palisade.
From there, head north toward Dinosaur National Monument for some prehistoric perspective. It's worth a backtrack from the monument to get to Vernal, Utah, through some of the most classic western scenery you can find. We're talking red rocks, alpine deserts, sagebrush.
Then keep driving north to the Flaming Gorge National Recreation Area. The huge reservation straddles Utah and Wyoming. There are plenty of places from which to launch a boat, and miles and miles of shoreline on which to camp. However, even in the spring it's important to plan ahead and make camping reservations. You can reserve sites at Recreation.gov.
The roads between Flaming Gorge and Jackson are vast and breathtaking. You'll recognize civilization again right around Rock Springs, Wyoming. Stop in Eden, Wyoming, the next town north, for ice cream to fuel your final push into Jackson. Drive slowly through Hoback Canyon and keep an eye out for elk, bighorn sheep and moose along the road.