An Ode to Hibernation Season
Jackson Hole in the wintertime is renowned for its world-class skiing. Boasting some of the steepest and most exciting terrain in the U.S., locals and visitors alike take pride in showing their athleticism, their grit, their speed on Jackson Hole's slopes.
But some of Jackson's most memorable moments happen when we slow down.
Just take it from the local fauna. Every winter, bears settle down in their dens for a long, deep snooze. Elk and other ungulates come down from the mountains and make themselves comfortable lower in the valley, where food is easier to find. These are survival strategies, sure. Animals need to conserve energy in the wintertime as food is harder to find. But wildlife also understand that… there simply isn't much to be done during these long cold months, so why do much at all? Take a page out of their book — out here, the wild rules, after all. Budget a couple of "slow" days into your visit to experience winter at its finest. Here are a few ideas.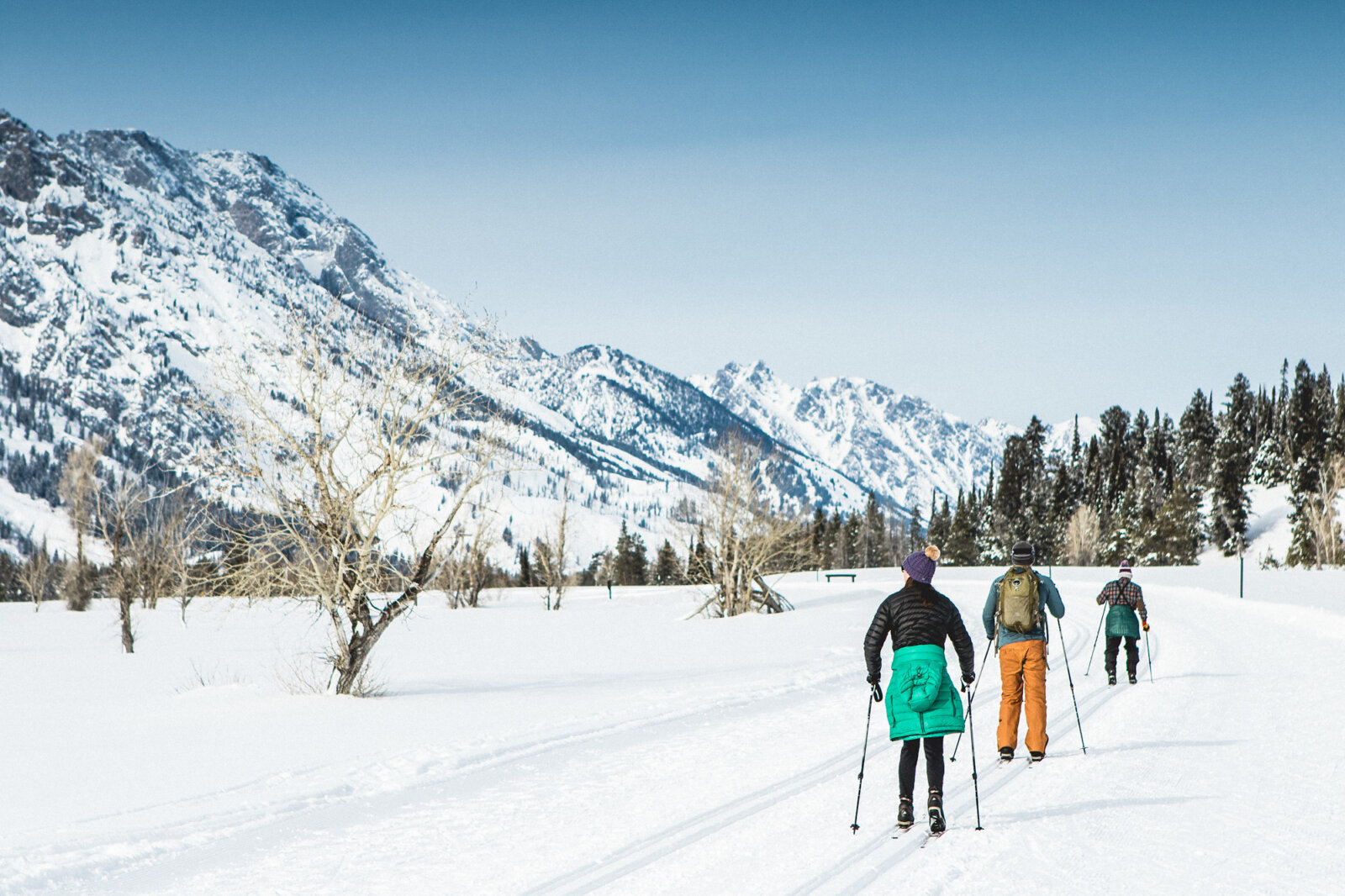 Learn from the masters themselves – the wildlife!
Without a doubt, the best way to experience local wildlife in the wintertime is with a guide. Not only will your guide have the most current information about where to find wildlife; they'll also be armed with a wealth of knowledge and passion. Guides are also equipped with spotting scopes and binoculars so you can feel close to the wildlife, but keep a safe distance.
Some outfitters offer winter excursions like snowshoeing and cross-country skiing to get a little deeper into the wilderness. But there are also options to stay warm and comfortable between sightings in your guide's outfitted safari car.
For a quiet and peaceful elk experience, take a winter sleigh ride through the National Elk Refuge. It's as close to the majestic animals as you'll ever get — within 20-30 feet — from the safety of a sleigh and with an experienced guide. This is a part of the Elk Refuge that isn't open to the public, so the trip is quiet and serene.
Soak
Because what says "rest day" better than a soak in a soothing mineral hot spring?
There are two options just outside of Jackson to indulge. Granite Hot Springs is accessible only by snowmobile, dog sled, or skis in the wintertime — but if you do ski, bear in mind it's a 10-mile road, and you have to go back, too! But the remoteness is part of the reward. Once there, you'll get to spend the day soaking in a luxuriously large and warm pool of hot mineral water. Plenty of guides will take you there. A small cash fee is required once you're there, so come prepared. Bring a swimsuit, a change of clothes, and extra layers for the journey.
For a less committed hot spring experience, head south of town to Astoria Hot Spring. Astoria is unique in that this is not its first time operating as a hot spring. The springs were originally built in the 1960s as a commercial resort and community pool, but closed in the 90s. It came back to life thanks to the Astoria Park Conservancy and Trust for Public Land and is now a non-profit owned and donor-funded park. Astoria has five pools right along the Snake River. Entrances are timed and spaces are limited to allow for social distancing, so book ahead!
With or without a guide, always remember to give wildlife plenty of space — minimum 25 yards from most animals and 100 yards from carnivores like wolves and bears. Jackson wildlife is, indeed, wild, and well-adapted to the harsh winters. They don't need humans' help! Never feed, pet, or capture wildlife, no matter how hungry or cold they look.
Cross-country ski or snowshoe
Make sure you make time to take it slow, too! Let's just call it "winter walking." The beauty of cross-country skiing or snowshoeing is there's no rush. Ambling through Aspen groves in a gentle snowfall will make you believe in magic, we promise.
You can rent cross country skis or snowshoes at any number of local retailers. If you're new to it, try a guide! They'll help you master the technique and take you to their favorite spots. We love Taggart Lake in Grand Teton National Park for more experienced travelers. But the park road, which closes to vehicles in the wintertime and is groomed for skiing or walking, is just as scenic and a little easier to travel over. Cache Creek is a great spot right in town, and is dog friendly — just make sure to follow leash laws and keep your pups away from wildlife.
Remember, always practice Leave No Trace while out on local trails. Stay on maintained trails; pick up after yourself and your pets; give wildlife space; be courteous of other users. And, of course, have fun!