Discover Night Skies Like Never Before
For over one hundred years, since the early days of the dude ranchers, visitors have been coming to Jackson to witness the majestic Teton Mountain Range and the incredible wildlife that lives here.
However, more and more people are planning their trips to Jackson not just for what they can see during the day, but for what awaits them at night. Jackson Hole is one of the last few tourist destinations in the West that boasts incredibly dark and easily accessible views of a nearly pristine night sky.
What makes Jackson such a great place for stargazing? Well, the high elevation in Jackson (6,237 feet on the valley floor) means that you're looking through much less atmosphere than at sea level. That makes the night sky that much clearer! The low humidity and predictable weather, especially in the summer, mean that we have lots of clear night skies. The valley where the town of Jackson resides is mostly protected undeveloped public land. That means there is relatively little light pollution, allowing you to see thousands of stars on moonless nights, the arms of the Milky Way Galaxy and so much more.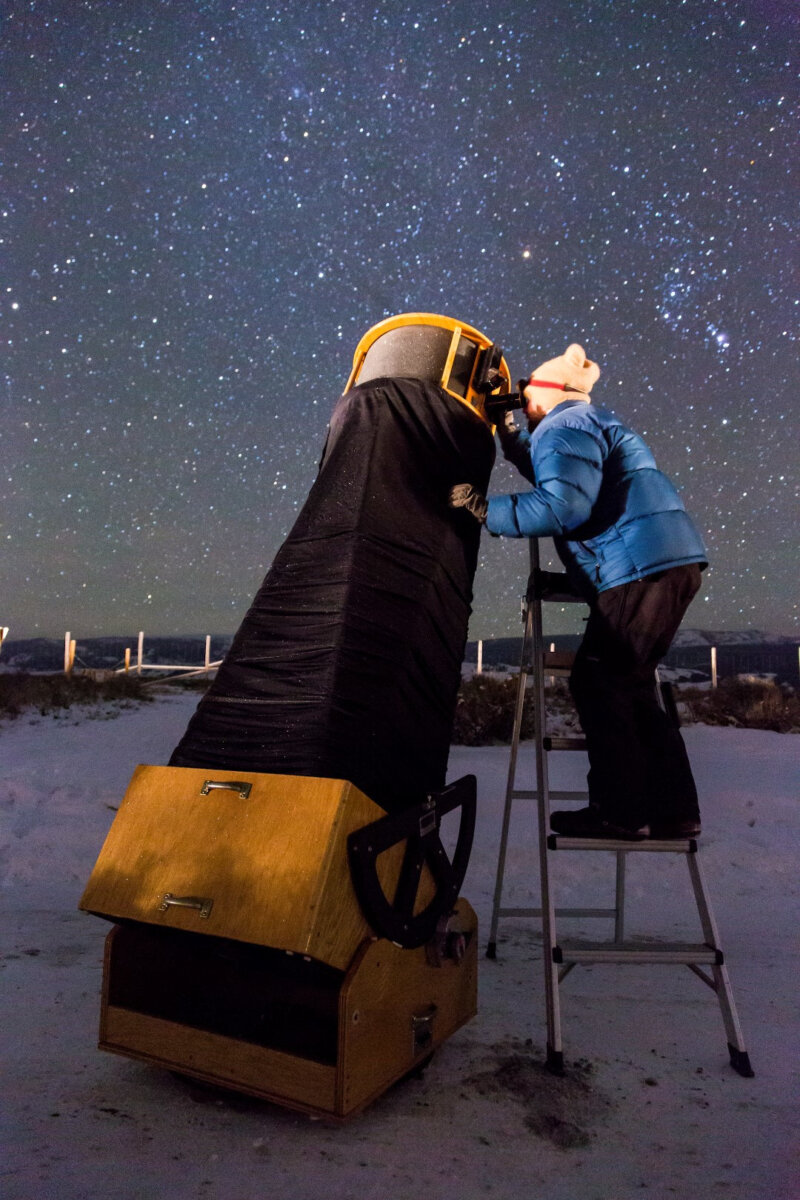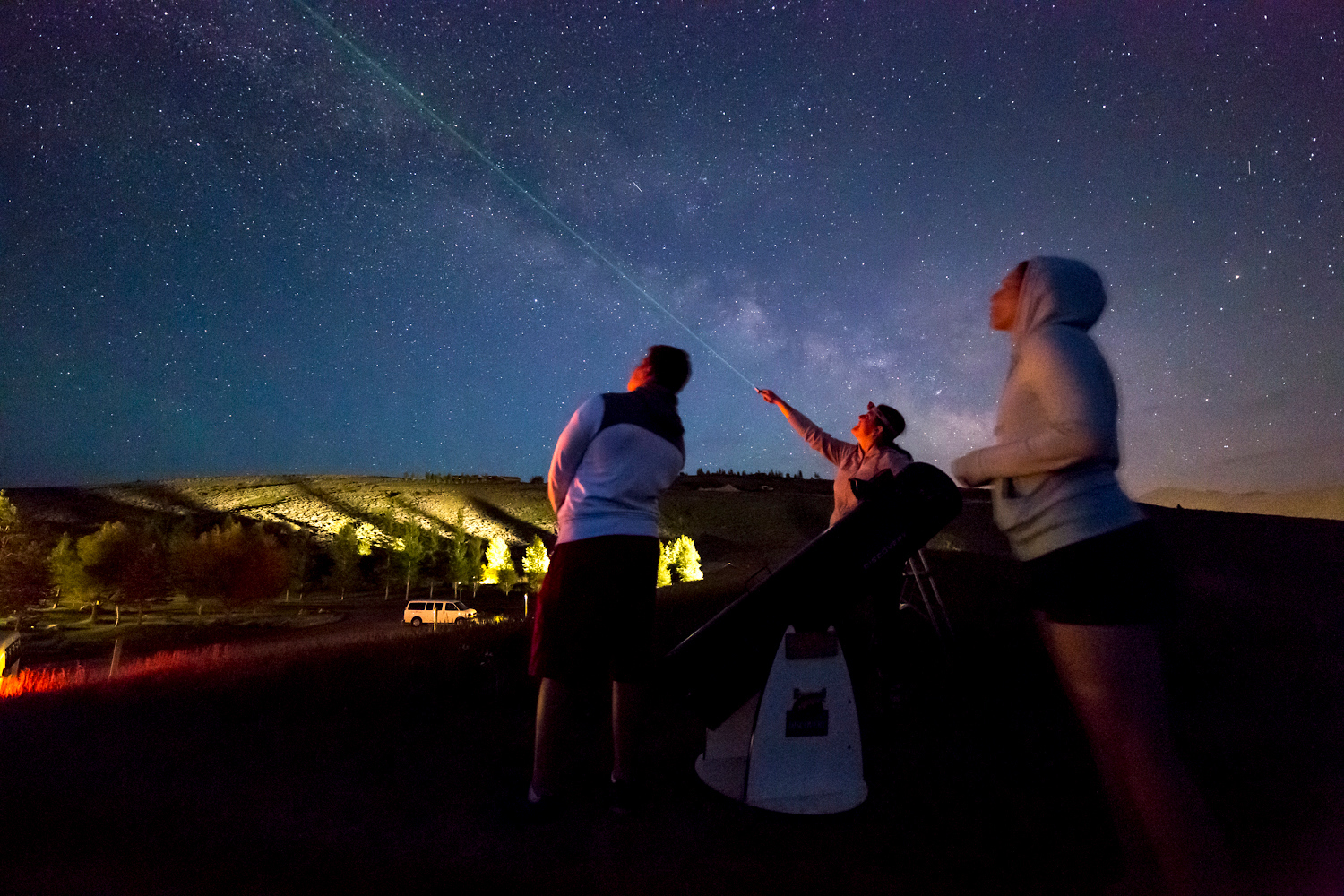 While there are more remote locations in the US where you can visit and see even darker night skies, there are none with the amazing amenities Jackson has to offer less than a 30 minute drive away from a spectacular starry night sky. On a moonless night you should be able to see about five thousand stars as well as the only object in the northern hemisphere's night that is not part of our galaxy, but still visible to the human eye. You guessed it, the Andromeda Galaxy, our nearest galactic neighbor at about 2.3 million light years away. When you find that fuzzy spot in the sky you'll be seeing the light that left that galaxy 2.3 million years ago. So, you'll be literally looking back in time to when one of our earliest hominid ancestors (australopithecus) was walking in the Earth! That's when the light you're seeing today from Andromeda left there to begin its journey to the Earth.
Local Tip
If you're traveling to Jackson after October 2023, you'll have another amazing astronomical surprise waiting for you. Snow King Mountain Resort is about to open North America's 1st ski resort observatory and planetarium on the summit of their mountain! Wyoming Stargazing has been helping Snow King plan the facility that will offer visitors a chance to look through a telescope with a 1-meter diameter mirror, take part in an engaging space theater planetarium show, or sit in on an astronomy presentation in their auditorium. Details on the construction progress can be found here.
How to have an extraordinary stargazing experience in Jackson, WY
You don't need much to enjoy the night skies in Jackson, but here are a few tips that will make your experience even more extraordinary.
Rent a car and head north into Grand Teton National Park. Virtually any public road that gets you off the main highway will lead you to a pullout where you can enjoy the night sky just a few steps from your car.
Bring along a pair of binoculars and have fun exploring all the fuzzy spots in the night sky that you can see with the naked eye. You'll be amazed many more stars come until view with just a standard sized pair of birding binoculars. Here is a great pair from Vortex Optics of you need to pick one up.
If you're traveling with your DSLR camera, don't forget to pack along a travel tripod and a wide angle lens like a Rokinon 14mm. Point your camera to the South during the summer or fall months or just over the Tetons to the West during the winter or spring. Set your camera to take a 30 sec exposure at around 1600 ISO. You'll be shocked how easy it is to get great night shots even as a novice photographer.
The number of stars can be overwhelming. If you want to be able to pick out more than just the two or three brightest constellations print out this free monthly star map from Skymaps.com or you can be a bit more high tech and user one of the mryiad planetarium apps you can get for your smart phone. Our favorite is StarWalk 1. A headlamp with a red light option is also a nice touch to save your night vision and still be able to see what you're doing when it's really dark.
If you're looking for a premium experience to be able to learn a ton from an experienced night sky guide and to be able to look through one of their massive telescopes, then check out Wyoming Stargazing. They are a local nonprofit organization that leads public and private stargazing tours throughout the year.
Whether you experience the dark night skies in Jackson with just the StarWalk smart phone app or do a stargazing tour with Wyoming Stargazing you'll have the opportunity to see the night sky almost how it was for billions of years before the invention of electric lights. Most people alive today have never experienced a night sky as dark as Jackson's. We hope you enjoy it and everything else Jackson has to offer.
---
From awe-inspiring encounters with nature to wild and western activities every kind, Jackson Hole offers once-in-a-lifetime experiences, 365 days a year.
Eager to glimpse your first bear, moose, or wolf? Challenge yourself with a run down black diamonds or class III rapids? Hook an 18-inch cutthroat? Meet a real cowboy? Watch a Teton sunset? This place is full of experiences you won't find that at home, or anywhere else for that matter. In Jackson Hole, wild adventures aren't just possible—they're already here waiting for you.