How to Make the Most of Your Time in Yellowstone
Whether you have a day or a long weekend, Yellowstone National Park will draw you in and leave you wanting more.
The park has more than 10,000 hydrothermal features, a dazzling array of wildlife, and stunning scenery. It's the world's first national park, established in 1872, and it includes land in three states (most of the park is in Wyoming with small portions in Idaho and Montana).
Be sure to check the weather and road conditions before heading out, since almost all of Yellowstone's roads are seasonal and can close for inclement weather. Brush up on wildlife safety and be aware of the rules, such as you must stay at least 100 yards from a bear or wolf and a minimum of 25 yards from other species. Also, know what to do if you encounter a bear or other animal. Yellowstone National Park recommends bear spray, even for people who aren't hiking in the backcountry, since bears can appear on boardwalk trails, parking lots, and just about anywhere else.
To spot wildlife, bring binoculars or a spotting scope, and if you see clusters of people gathered in pullouts looking fervently in a particular direction, pull over if you can do so safely and park legally to take a look. Even if you don't spot anything at that moment, you might get intel on an animal that just walked behind a bush and could be back in sight shortly.
Take a peek at the park's geyser activity and check out the GeyserTimes website, which includes estimates about when a few geysers (like Old Faithful and Daisy) may erupt. Keep in mind these are predictions, not guarantees.
Make time for your kids to become junior rangers by picking up a self-guided booklet, completing it, and then bringing it to a ranger station, where they can receive their own junior ranger badge. The park also offers a young scientists program for kids and teens.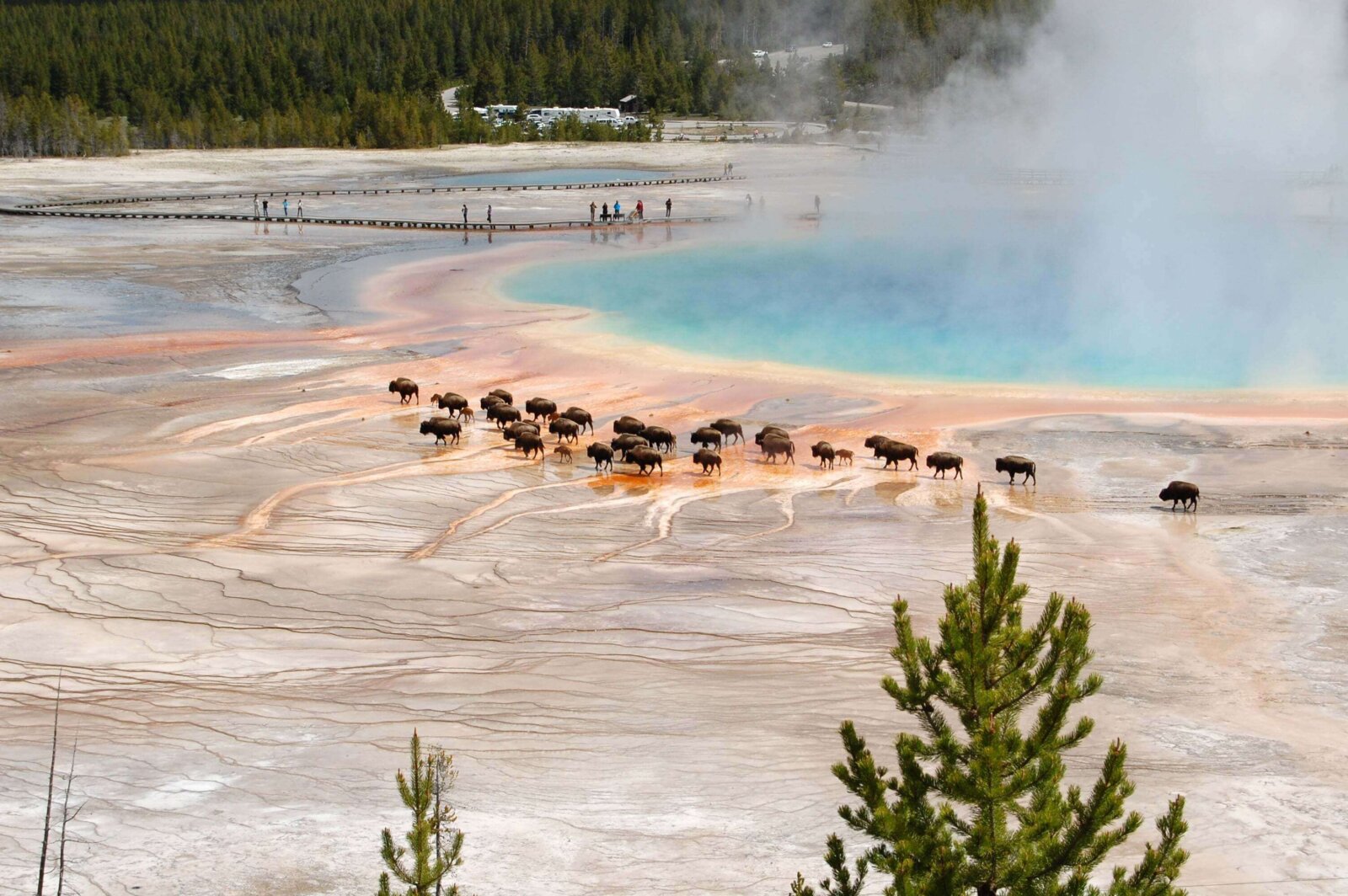 If you only have one day in Yellowstone
With only a day to explore Yellowstone, the Lower Loop will hit a lot of the highlights, but you'll want to get an early start since there's so much to see. From Jackson, drive through Grand Teton National Park and take the John D Rockefeller Parkway to Yellowstone's south entrance. From there, you can make a "lollipop loop" around the park's Lower Loop to return to Jackson the same day. It's helpful to take a peek at a park map before planning your top stops.
After entering Yellowstone, continue driving north—always watching out for wildlife—until you reach the junction just past Grant Village. You can either explore West Thumb's magnificent geothermal features or you can turn west at the junction (with plans to stop at West Thumb later in the day) and head toward Old Faithful.
Part of Upper Geyser Basin, Old Faithful usually erupts every 90 minutes or so, shooting up to 8,400 gallons of boiling water over 100 feet into the air. The highest eruptions have reached 184 feet, and eruptions can last from a minute and a half to 5 minutes. The Upper Geyser Basin is one of the world's most geyser-packed locations, so take time to stroll while always staying on boardwalks and designated trails.
Other geyser basins are also concentrated in this section of the park and are just a hike or short drive away. Black Sand Geyser Basin, Biscuit Basin, Midway Geyser Basin, and the Grand Prismatic Spring are a few favorites, and there are also many other geothermal features to enjoy.
You could spend days exploring everything to see along the way, but with only one day, it's important to be strategic and keep an eye on the clock (and know when the sun sets). Plan a handful of must-sees and leave time and room for serendipity. Bring lunch and snacks to enjoy at a picnic area along the way, being mindful not to leave any crumbs or trash behind, and keeping watch for wildlife.
Driving the Lower Loop, you'll encounter numerous geyser basins, a number of waterfalls, and likely some wildlife along the way. Near Norris Geyser Basin—where you can check out a museum and explore trails to geysers—turn east to continue the loop. Then, head south at Canyon, making time to see Upper and Lower Falls and a number of stunning viewpoints. Continue south through Hayden Valley—one of the park's best spots to see wildlife—before following Yellowstone Lake's western shore, stopping at West Thumb if you haven't already and daylight allows, before heading back to Jackson.
If you have two or three days in Yellowstone
In two or three days, you can explore the Lower Loop in more detail and also enjoy the park's northern loop. Consider spending a night or two inside the park in one of the campgrounds or lodges or staying in one of the other gateway towns (West Yellowstone, Gardiner, Cooke City, or Cody) to cut down on driving and add time for more exploration.
Some Upper Loop highlights to explore include Mammoth Hot Springs Terraces in the northwest corner of the park, which are fascinating and gorgeous terraces with a number of trails nearby. The historic Albright Visitor Center is a great place to stop for information and for kids to take part in the junior ranger program. Elk are frequently seen in this area, so use caution and enjoy them from afar.
In the northeast part of the park, Tower Fall is worth a stop, and be sure to save some time for a drive out to Lamar Valley (toward Cooke City) to watch for wildlife. Lamar Valley is one of the best places in the world to spot wolves, so bring your binoculars or spotting scope and consider finding a spot to wait for a while and watch.
Massive bison herds can also be seen in the valley, sometimes coming right onto the road, so drive with caution. Watch for elk, pronghorn, coyotes, foxes, and other wildlife, and plan plenty of time to enjoy the valley. Follow traffic laws, don't block the road, and park only in designated pullouts.
Yellowstone can take a lifetime to explore, so don't expect to see everything in one trip. Strategize to focus on what you want to see most on your trip, and plan a schedule that keeps you moving but isn't too exhausting. Let the weather be your guide as well. If the weather is beautiful for hiking consider focusing on outdoor experiences, but if it's cool, overcast, and a little rainy, it can be a great day for wildlife watching. However you spend your time, you'll find yourself dreaming of a future visit.
---
From awe-inspiring encounters with nature to wild and western activities every kind, Jackson Hole offers once-in-a-lifetime experiences, 365 days a year.
Eager to glimpse your first bear, moose, or wolf? Challenge yourself with a run down black diamonds or class III rapids? Hook an 18-inch cutthroat? Meet a real cowboy? Watch a Teton sunset? This place is full of experiences you won't find that at home, or anywhere else for that matter. In Jackson Hole, wild adventures aren't just possible—they're already here waiting for you.