About Jackson Hole
Jackson Hole refers to the 42-mile long valley between the Teton and Gros Ventre mountains. Trappers and mountain men used "hole" to describe high mountain valleys. Within Jackson Hole are the towns of Jackson, Teton Village, Kelly, Wilson, Moran, Moose, and Hoback Junction and also Grand Teton National Park. Jackson, population approximately 10,000, is the largest town in Jackson Hole.
The combination of wildlife, wide-open spaces, jagged peaks, and Wild West culture is what makes us one of the top year-round destinations in the world. Outdoor adventurers know us as a gateway to Yellowstone and Grand Teton National Parks, one of the world's most challenging ski areas, Jackson Hole Mountain Resort, and home to America's first guided climbing service, Exum Mountain Guides. Our most famous celebrity is 26-year-old grizzly bear 399, mother of 22 cubs, although you might also catch a glimpse of actors such as Harrison Ford or Sandra Bullock, since we've starred in many Westerns and extreme adventure films. The unique elk antler arches around the Jackson Town Square are one of our most photographed spots. And then there's the food and art…
Once you get here, there's so much to do and see that you won't want to leave. Just ask the folks who live here — most have been here for years after experiencing a vacation they just couldn't bear to end.
We recommend no fewer than four days for your visit to Jackson Hole. Grand Teton and Yellowstone National Parks can fill weeks with all there is to experience; you'll want to make sure you have at least one full day to explore each. Then, set aside a day to immerse yourself in  nature. From the bold (summit the Grand Teton with a guide) to the relaxing (take a wildlife tour or soak in hot springs with a view of the Snake River) plus three ski areas to choose from with both summer and winter attractions, there are endless opportunities for outdoor activities you won't find anywhere else. And last but not least, a day spent in Jackson's iconic town square is a must to enjoy shopping, art galleries, dining, spas, and a visit to the nearby National Elk Refuge or National Museum of Wildlife Art. If you're seeking to achieve a combination of slowing down, playing hard, and really immersing yourself in nature, we recommend at least a week.
When talking about snow in Jackson Hole, it's important to differentiate between the valley floor (which includes all the towns in the valley) and the mountains that ring the valley. Annually, downtown Jackson gets an average of about 105 inches of snow. Between 8,000 and 10,450 feet up at Jackson Hole Mountain Resort, though, the average annual snowfall is almost 460 inches, about 38 feet.
Reaching any summit in the Tetons requires technical ability, proper equipment, a partner, and a plan. While the Grand Teton is a popular objective, a rope is required, expert route-finding skills are a must, and going with a guide ensures safety and heightens your experience.
There are dozens of routes to the 13,775-foot summit of the Grand Teton, the second highest peak in Wyoming. (Gannett Peak in the Wind River Mountains is Wyoming's tallest at 13,810 feet.) Every route on the Grand Teton requires technical rock climbing. While only experienced mountaineers should attempt climbing the Grand on their own, guide services offer multi-day progressive rock climbing programs for novice and intermediate climbers that culminates with a climb of the Grand. Climbers doing the Grand on their own can check with Grand Teton National Park's Jenny Lake climbing rangers for current conditions on the mountain, as snow can linger deep into the summer season and often requires crampons and ice axes in addition to the standard climbing gear. The park doesn't require independent climbers to register; however, camping permits are required for anyone sleeping overnight in the mountains.
The Greater Yellowstone Ecosystem, one of the few remaining intact ecosystems on Earth, is home to more than 200 species of animals including wolves, black and grizzly bears, bison (did you know that Yellowstone bison comprise the nation's largest bison population on public land?), elk, and nearly 60 other species of mammals. We're also home to more than 300 species of birds including fantastic raptors like bald eagles, ospreys, and peregrine falcons. You might not see them, but we also have 16 species of fish, six species of reptiles (non-poisonous), and four species of amphibians.
Please help preserve this incredible natural treasure for future generations by observing wildlife from a distance, never feeding the animals, extinguishing wildfires, and driving slowly.
The town of Jackson is 57 miles to the south entrance to Yellowstone National Park. To get there, simply take Highway 89 through Grand Teton National Park, offering a scenic drive with the opportunity to spot wildlife. If you plan on visiting Yellowstone in one day, we recommend hitting the road early.
Yes, both Grand Teton and Yellowstone National Parks are open year-round, though access to certain areas and roads changes by season. If you prefer a quieter experience, consider visiting during the spring or fall, when the weather is cooler and the crowds are thinner. During these months, you can enjoy hiking, wildlife watching, and scenic drives while also avoiding the peak tourist season. Winter is a unique and magical time with plenty to do besides downhill skiing.
No matter when you visit, be sure to plan for any kind of weather conditions. As Jackson old-timers will tell you, they've seen snow flurries every month of the year! Many of the national parks' roads and facilities are closed due to snow and ice from late October to sometime in May, so it's important to check the Wyoming road report, look up Yellowstone and Grand Teton National Parks' current conditions, have good tires no matter the time of year, and plan accordingly.
Jackson Hole Seasons
The answer depends on what type of skiing suits you, though anytime between December and March guarantees a good time on the slopes. December is often very quiet leading up to the holidays, and early snowfall may dictate what lifts are open. January is often when each resort is fully open with ample snow coverage , but it's also the coldest month on average. Historically February is the snowiest month, which tends to draw more skiers in their hunt for powder days. March is a great month because the sun gets stronger, leading to hints of spring skiing and lunch on the mid-mountain deck. April means few crowds and, in most years, skiing on "corn" snow. Beloved by locals as powder, corn gets its name from the fact that the shape of the flakes of snow look like kernels of corn. Snow turns into corn when it's exposed to multiple warm, sunny days followed by cold, clear nights.
Yes! While most winter visitors come here to downhill ski, our snow is just as good for nordic skiing, snowshoeing, fat biking, and snowmobiling. Winter is also a great time for wildlife watching since it's the only time you can take a sleigh ride into a herd of elk in the National Elk Refuge, and wildlife can be easier to spot because animals' thick, dark winter coats contrast with the bright, white snow.
Our winter is cold enough for outdoor ice skating rinks, and ski lifts aren't just for skiers. The views from the top of the tram, Bridger gondola at Jackson Hole Mountain Resort or Snow King's gondola are the same whether you're attached to skis, a snowboard, or neither. Visit jhnordic.org for the latest information about winter recreation including grooming schedules, GPS maps, rental information, and trail reports.
The coldest-ever recorded temperature in Jackson Hole was -62 F on December 20, 1924. While such low temperatures do happen, they're rare. Jackson Hole's average high temperature between November and March is around 22 F. Annually, Jackson Hole has about 50 days and nights during which the temperature dips below 0 F.
Because of the geography of the valley, on cold days we often get a temperature inversion; this means that temperatures rise as you gain elevation. It might be 2 F at the base of Jackson Hole Mountain Resort but 25 F at the 10,450-foot top of the Jackson Hole Mountain Resort tram.
Locals consider summer the 9 weeks between the Fourth of July and Labor Day, when the grass is greenest and the temperatures are warmest. While not all the snow in higher elevations might be melted, most hiking and horseback riding trails are passable and nighttime temps generally stay above freezing.
The hottest-ever recorded temperature in Jackson Hole was on July 20, 1934, when temps reached 101 F. Typically, though, July and August average daytime temperatures are in the high 80s with very low to no humidity. No matter how hot Jackson Hole gets during the day, know that nighttime temperatures are substantially cooler, usually in the low 40s.
The first sign of spring in Jackson Hole isn't budding leaves or blooming flowers but bears coming out of hibernation. The first such bear is usually spotted in March, when the valley is still buried beneath several feet of snow. Spring as most people know it — no snow, leaves budding, temperatures warm enough for shorts and flip-flops, the first flowers blooming — doesn't usually arrive in Jackson Hole until early May. And this is only at the valley's lower elevation. Above 10,000 feet, where there's more snow to melt and temperatures are cooler than in the valley, spring can last into early July.
Almost all hotels and motels are open in March, April, and May. To give their staff time to recharge before the busy summer season, some restaurants and stores may close for a few weeks during part of April or early May, but they don't all typically close at the same time.
The Inner Park Loop Road in Grand Teton National Park is closed to cars until May 1 but opens to non-motorized traffic, including bicycles, between late March and mid-April. Many forest service roads are closed until the winter's snow has melted and are no longer muddy, usually in late May or early June. Campgrounds don't open until late April.
Fall in Jackson Hole usually starts in early September. Daytime highs drop to the low 60s and night temperatures begin to flirt with freezing. If we're lucky enough to get an extended fall — aka the second summer — there won't be much precipitation and daytime highs in the 50s and 60s can last into October. If it's a year when snow comes early and doesn't melt, fall can be the shortest of our seasons, lasting only for the month of September.
Most of our forests are coniferous rather than deciduous, meaning that trees keep their green needles year-round. However, our aspen groves put on a show in autumn as their quaking leaves transform from green to yellow and finally fall to the ground. We usually see the first aspens changing color in late August. The colors are at their peak around mid- to late September and into early October.
Get to Know Us
With a rich Native American and cowboy history, open spaces, diverse ecology, and outdoor recreation, Jackson Hole sets itself apart from any place else in the West.
Explore
Plan Your Trip
With so many great places to stay, eat, and play, and endless activities to experience, planning a trip to Jackson Hole is an adventure in itself.
Explore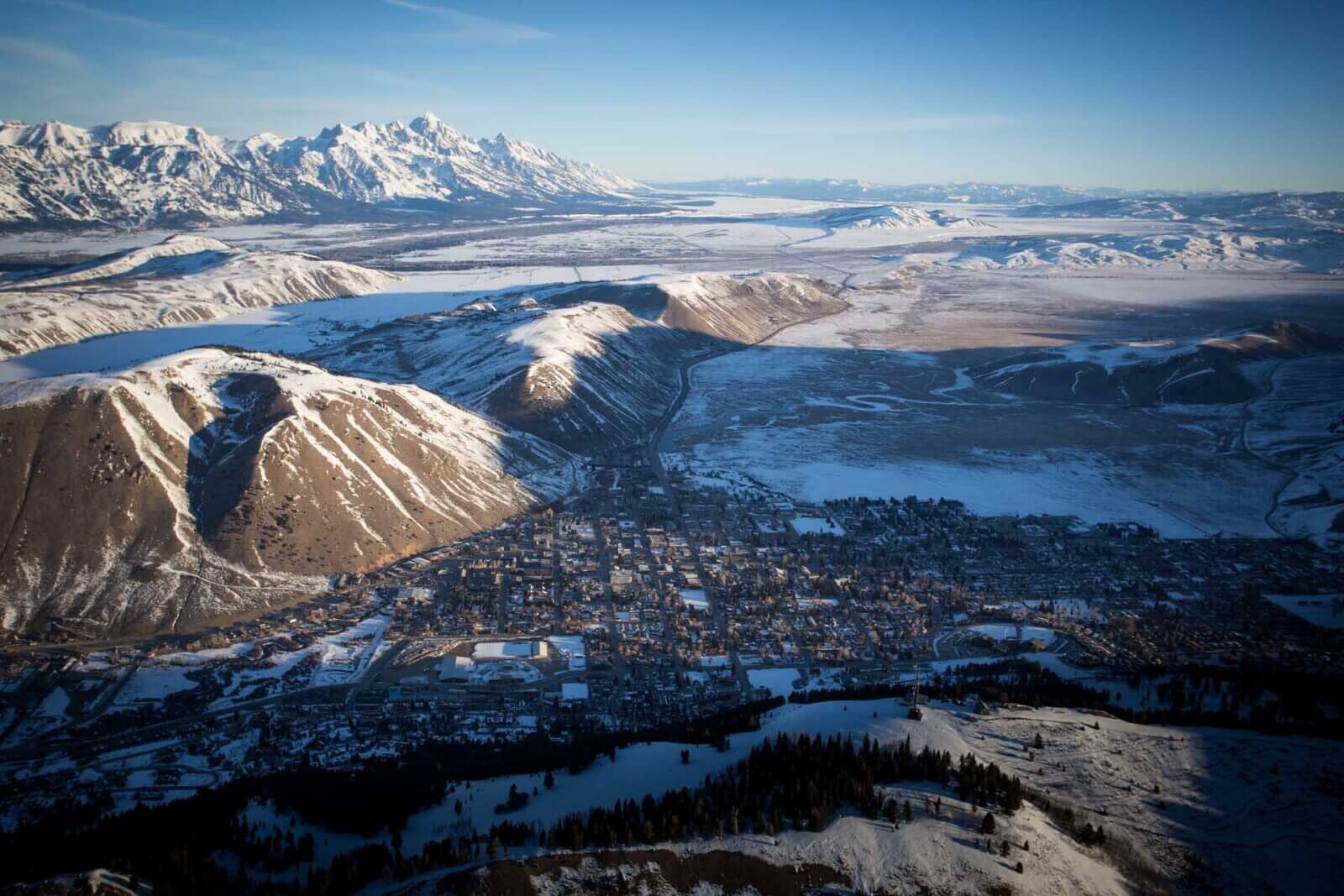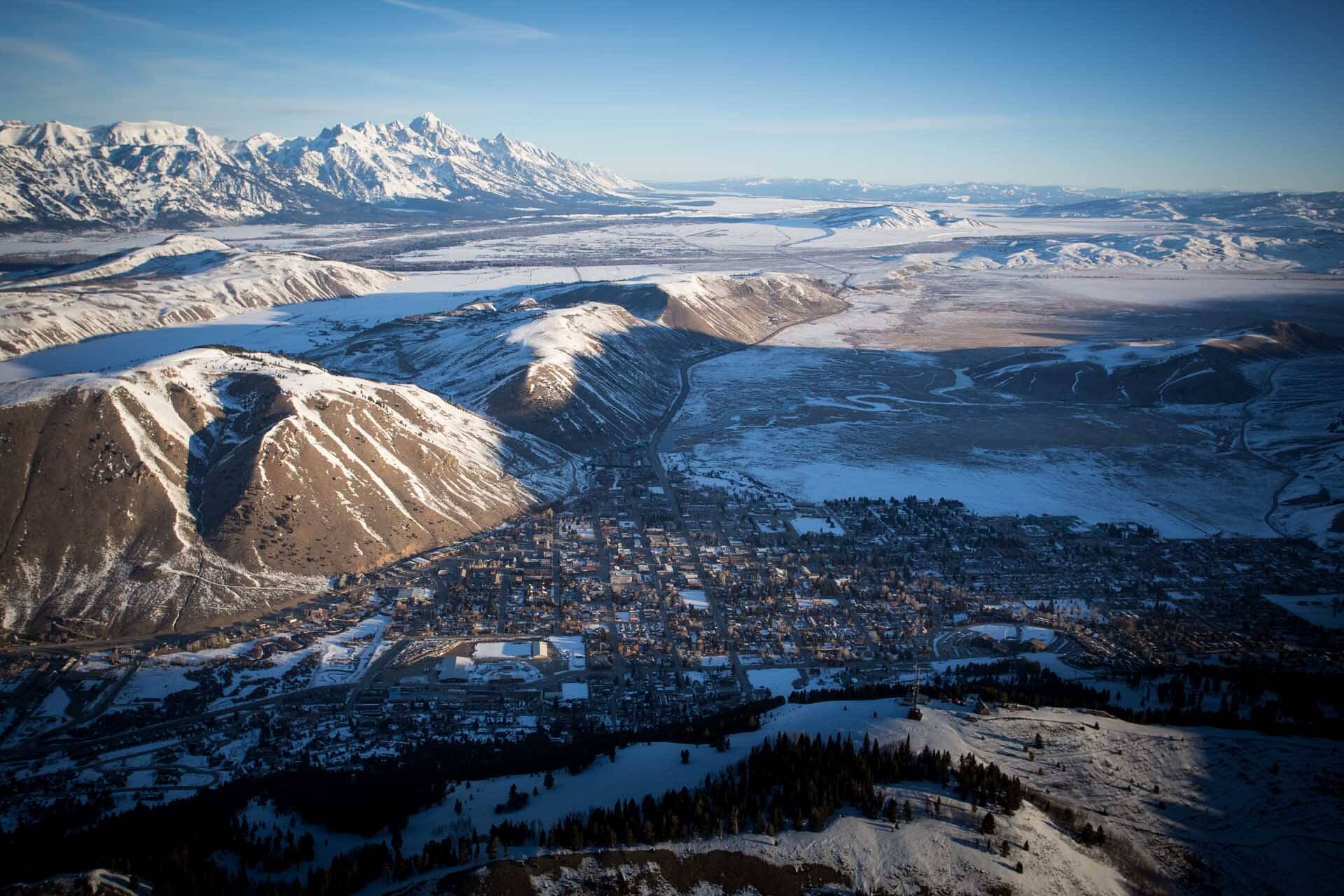 Getting Here
Getting to Jackson Hole is easier than ever, with non-stop flights from major cities across the United States to Jackson Hole Airport (JAC)—the only airport in a national park and just 20 minutes from the town of Jackson.
Explore