Driving Here
Grand Teton National Park in the Summer, Photo: Shannon Corsi.
---
Find the freedom of the open road on a road trip to Jackson Hole. Driving to Jackson is a breathtaking experience that offers a mix of adventure and beauty as you explore some of the most beautiful landscapes in the United States.
On your drive here, discover the hidden gems of remote Wyoming, and stop at attractions and monuments along the way. Drive by towering mountain peaks, picturesque valleys, and winding rivers, and see the Tetons stretching across the sky for a majestic welcome to the Hole. Whether you're an experienced road-tripper or a first-time visitor, the drive to Jackson is an unforgettable experience that will leave you in awe of the natural beauty of this part of the world. Just be sure to stop and smell the (wild)flowers.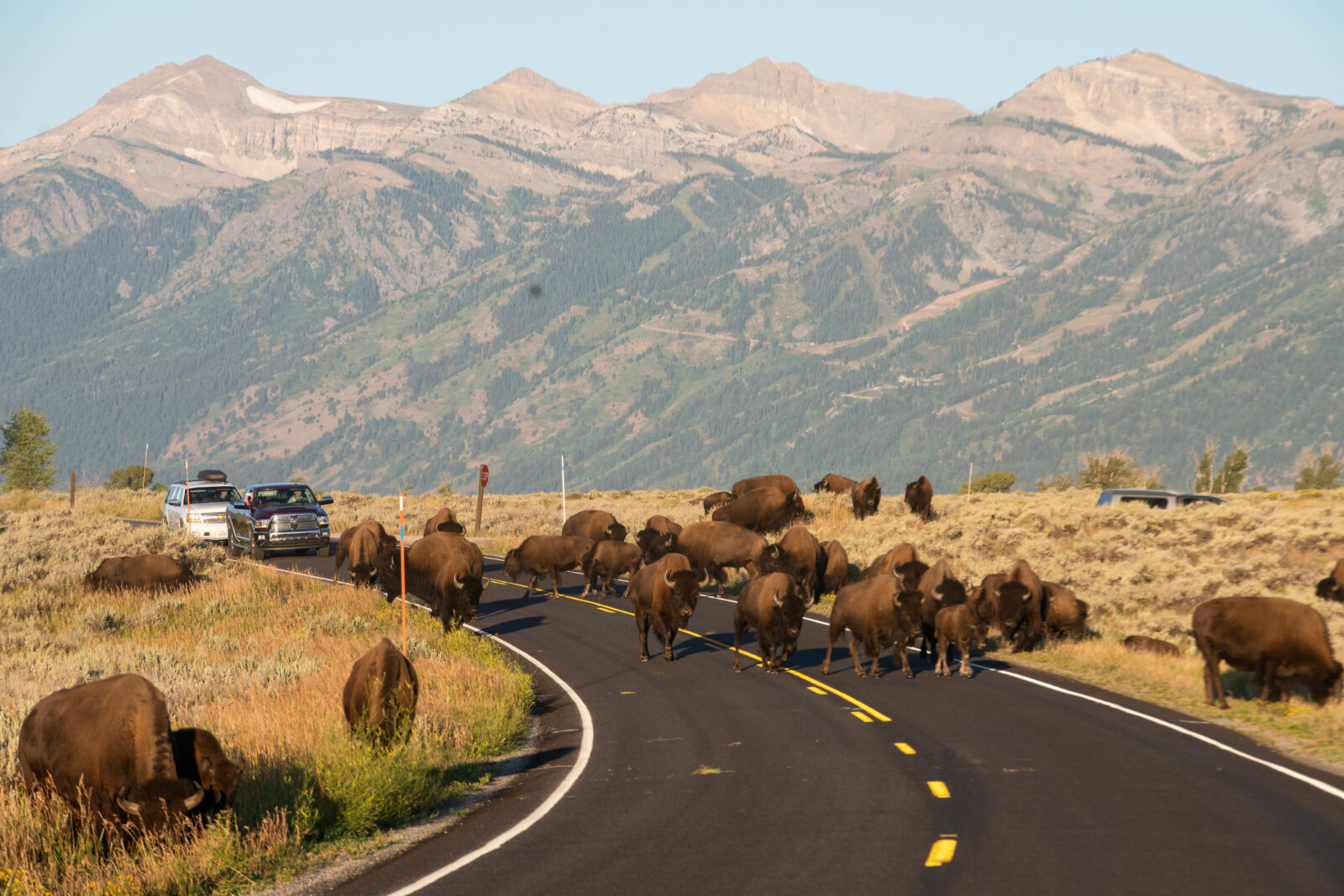 Local Tip
Download the TravelStorysGPS app to learn as you drive while hearing stories and factoids about this special corner of the U.S. Explore thousands of authentic, curated stories told by, local people through our GPS-based, self-guided audio tours.
Make the most of your drive with a road trip to Jackson Hole.
While Jackson Hole is home to Grand Teton and Yellowstone National Parks, it's just a scenic 8-hour drive from both Canyonlands and Arches National Parks in Utah and Glacier National Park in Montana, making it an achievable stop on an American protected land roadtrip. If you're looking to road trip a bit more locally, Craters of the Moon National Monument, Devils Tower National Monument, and the Flaming Gorge National Recreation Area are all within close shot of Jackson.
Tips for Driving in Jackson Hole
---
Related Content
Getting Around

Public transportation, including a robust bus system, can get you to many destinations in the area. A well-maintained bike path is open for biking all year round. If you're going carless, hiring a guide and taking guided tours are great ways to ensure you can get everywhere you want to go.

Learn More

All Roads Lead to Jackson Hole

There's a reason people devote entire books to the great American road trip.

Learn More