Keep Jackson Hole Wild
Jackson Hole has a knack for putting things in perspective.
The Tetons' vast shadow makes problems feel small. But size can be deceiving. Jackson's mountainous landscapes are huge, yes, but they are fragile. The smallest actions can have the biggest impact on the ecosystem that makes Jackson Hole so special. Around here, the Wild rules. The rugged granite peaks and generations of wildlife were here first. We're lucky to live among them — but as guests in their homes, we must abide by their rules.
It's easy to make a trip to Jackson responsible and sustainable. The best trip leaves a bigger mark on the visitor than on the land itself. Help preserve the wild spaces and culture that define Jackson Hole with these easy tips.
How to Keep Jackson Hole Wild
Mind the trails
Trails are carefully built and maintained for the benefit of their users and the landscapes they run through. Staying on them helps reduce environmental impact. It can take the ecosystem 10-30 years to recover from damage caused by an off-trail detour. A favorite local saying is "take only photos, leave only footprints." We'd just add: leave only footprints on established trails. Mind any closure signs and wilderness boundaries. Check out our full guide to hiking and trail etiquette in Jackson Hole for more.
Sleep sustainably
Planning to unplug and spend a night under the stars? Camping in Jackson Hole requires a little extra preparation. All campsites in Grand Teton National Park are reservation-only, so plan ahead. Dispersed camping on national forest land is less regulated, but that doesn't mean there are no rules. There are no facilities, but there are designated sites that the Forest Service maintains in order to mitigate environmental impact. Stick to those sites. Practice Leave No Trace by packing out everything you bring, including food waste. Human waste should be buried in a cathole 6-8 inches deep and at least 200 feet away from water. Practice good campfire safety by staying current on fire restrictions and putting your fire all the way out — if your fire pit is too hot to touch, it's not out yet! Learn more about responsible camping on our latest blog post.
Eat and buy local
Jackson Hole is rich with flavors. Our growing season may be short, but thanks to innovations like our vertical greenhouse and a burgeoning slow food movement, it's easy to find fresh and local food. You're also in the heart of cattle country, so good meat is a guarantee.
Summer visitors have two local markets from which to choose. The local farmers market happens every Saturday morning from July 10-September 25 on the Town Square. It's everything you'd expect from a mountain-town farmers market: fresh, bustling, a little rugged. Stock up on local produce, meats, and cheeses, or sample local cuisine from the on-site food trucks.
It's ok if you're not a morning person. There's also a People's Market every Wednesday evening, from 4-7 p.m., on the Center for the Arts lawn. Bring your own cup to fill with local beer, wine, or sloshies (a local favorite frozen alcoholic beverage) and peruse the stands for local bites and crafts. The People's Market is a production of Slow Food of the Tetons, a local nonprofit that connects Jackson residents and visitors with sustainable local food.
Of course, you'll want to eat at any number of Jackson's renowned local restaurants. Slow Food of the Tetons also keeps a list of all restaurants in Teton County that source their food locally. Dining at any of these spots is an easy and delicious way to help sustain the local economy and ecosystem all at once.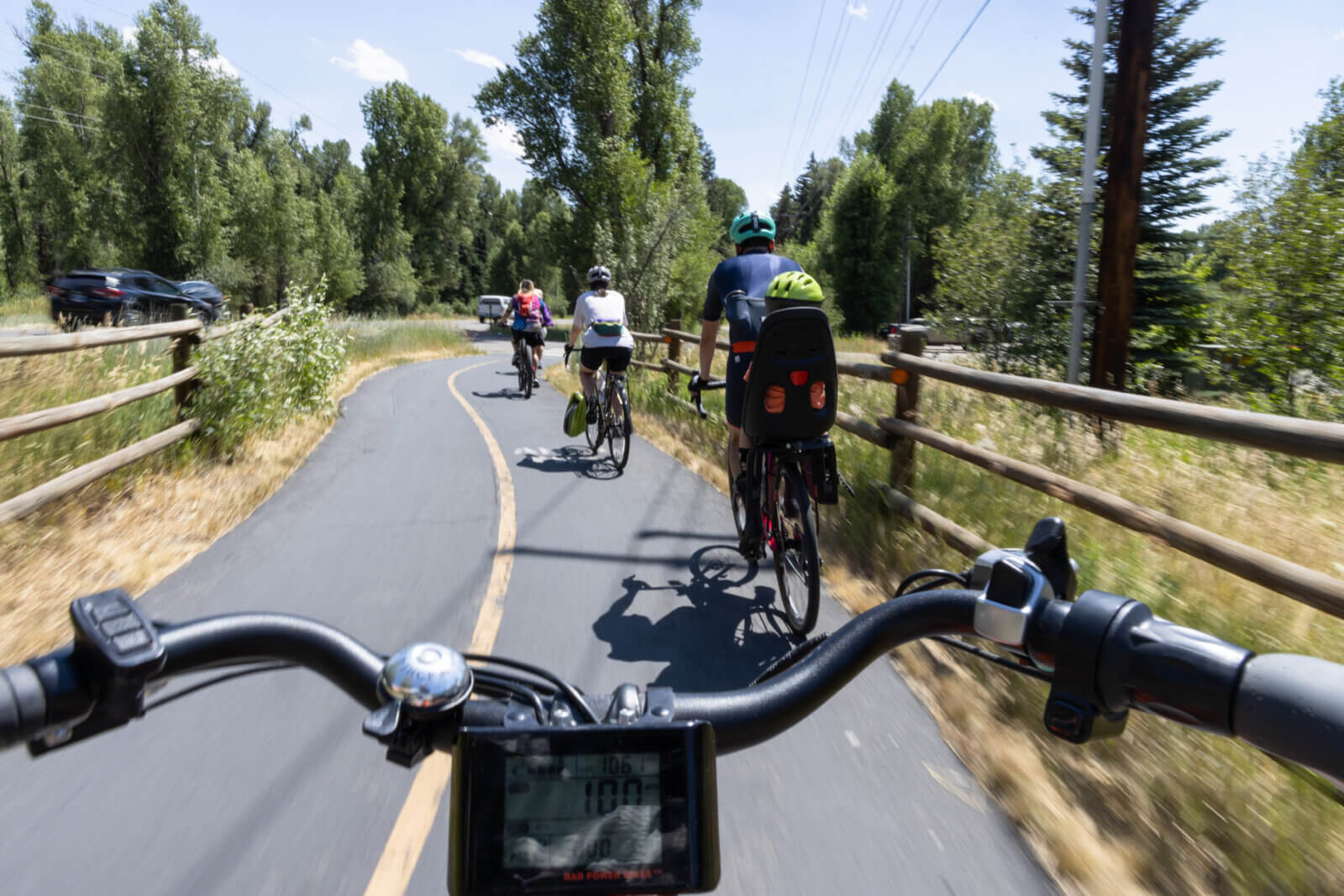 Pedal
Second to walking, one of the best ways to get to know a place is by bike. Teton County has more than 53 miles of paved bike paths stretching from town to Teton Village and beyond. There are 16 additional miles in Grand Teton National Park. Anywhere you need to go, you can get to on two wheels.
For longer rides (or just for fun), E-Bikes are available for rent at many places in Jackson. E-bikes are allowed on all paved pathways in Teton County and Grand Teton National Park, but prohibited on trails. Jackson Hole Mountain Resort also offers bike rentals for riders of all abilities at their shops in town and Teton Village. Certain hotels and rental homes have bikes available on the property.
Not up for a bike ride? No worries. Take the START bus for free in town and for a small fee to and from Jackson Hole Mountain Resort.
BYOB
That's right, bring your own bottle — water bottle, that is. Reusable water bottles are a cheap and easy way to reduce single-use plastics, which pollute our water and threaten our wildlife. Jackson's drinking water is pristine and safe to drink from the tap. There are also water bottle filling stations in almost every visitor center, in most of Teton County's public parks, and at Teton Village. Don't have your own reusable bottle? A branded one makes the perfect sustainable souvenir.
Speaking of plastic. The Town of Jackson passed a plastic bag ordinance in 2019 prohibiting the use of single-use plastic grocery bags. So bring your own bag, too, or pick one up at the register of one of our local grocers.
Of course, some waste is inevitable. What you can't reduce or reuse, recycle. Help Jackson on the road to zero waste.
Carbon offsets
It's a simple equation: air travel releases carbon. Trees and wetlands prevent that carbon from entering the atmosphere. Jackson Hole Airport has made it easy for climate-conscious travelers to offset their carbon footprint. Thanks to a partnership with The Good Traveler, visitors can buy carbon "credits" for each mile they fly. Credits help fund projects like wetland and forest restoration, which contribute to trapping and breaking down carbon. Since 2016, The Good Traveler has removed more than 229 million pounds of carbon from the atmosphere.
Stay Wild
The best souvenir is a place you can come back to. Help us keep Jackson Hole wild for generations to come by following the Wild Rules. See you out there.
Sustainable Adventure
Wild places deserve our respect and care. Recreating responsibly goes beyond sharing the trail and following the rules — it begins with a reverence for this place and a commitment to keeping it intact for future generations. While you're here, remember the Wild Rules.
Explore