Off-Season vs. Peak Season in Jackson Hole
A guide to traveler capacity and price averages by season.
---
Many travelers flock to Jackson Hole during the core summer season (mid-June to mid-September) and over the winter holidays, and with good reason.
These seasons offer some of the most iconic experiences Jackson has to offer. During these peak seasons it's important to plan ahead and budget for reservations.
However, if you're willing to be flexible with what time of year you plan to visit Jackson, you'll be rewarded with less traffic, great service, unique experiences, and more money in your pocket to spend on activities, dining, and souvenirs. Ask any local who plays outside every day of the year — all it requires is a few extra layers of clothing and an adventurous spirit.
Lodging price averages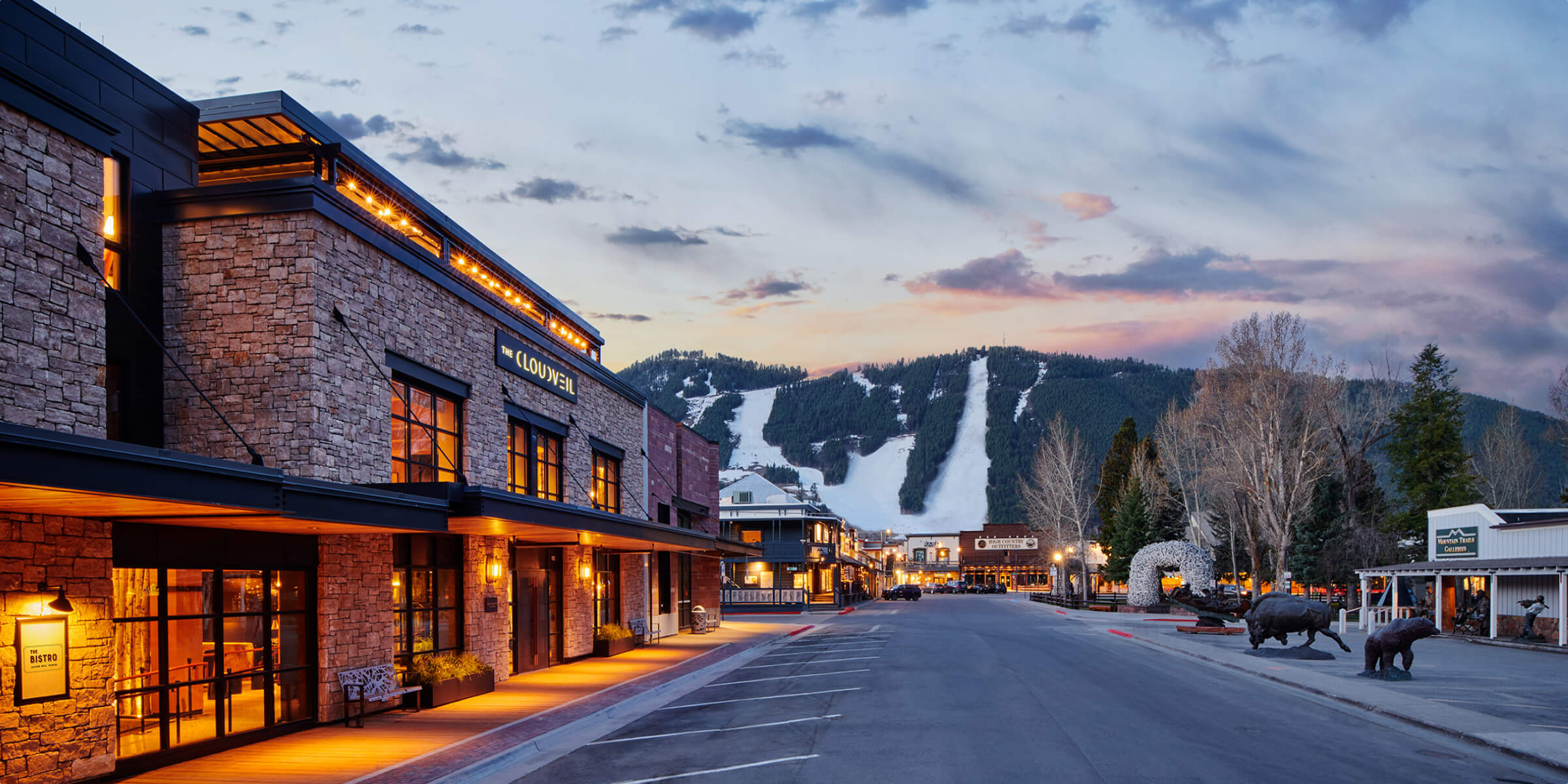 When it comes to planning a trip to Jackson Hole, one of the most important things to consider is lodging. The Jackson Hole Travel & Tourism Board's annual report and the Chamber of Commerce's Economic Dashboard track various lodging options in the area and analyze data by season.
It's important to note that these are just average numbers, and prices can vary greatly depending on the specific lodging option, location, availability, national/international travel trends, and, most importantly in winter, snow conditions. Because we don't have big cities nearby that bring in weekend crowds, summer weekdays are as busy as weekends, but you can often find good mid-week deals in winter.
The summer months (mid-June to mid-September) are the peak season for visiting the valley, Grand Teton and Yellowstone National Parks. In a typical Jackson Hole summer we historically approach 90% to 100% occupancy, and the average price for lodging is around $425 to $550 per night. Keep in mind that availability even for camping can be limited during this time, so it's important to book well in advance to secure your preferred sleeping option. With the best weather, wildflowers, chances for wildlife viewing, dining, shopping, and entertainment, we promise you'll have a great time — but expect to encounter crowds and bring some extra patience with you.
As temperatures cool and fall sets in from mid-September through November, the average occupancy is 50% (as low as 20% in November) and lodging prices drop to $250 to $300 per night. This is still a glorious time to visit, with mild temperatures, beautiful fall foliage, bugling elk, and relaxed locals. Be sure to check the Grand Teton and Yellowstone National Park websites for seasonal closures.
During the winter, the average price for lodging is at its highest at around $500 to $600 per night. It's not as busy as summer (50% to 75% total occupancy), but there's high demand for fewer lodging options, with campgrounds and national park lodging being mostly closed. Since this is peak season for skiing and other winter activities, it's important to book ahead of time to ensure availability.
Spring around here starts after the ski areas close until summer kicks off on Memorial Day weekend (April to late May). Lodging is the least expensive in April ($200 to $300 daily average), but many businesses shut their doors to give employees a break and gear up for summer. Spring is a relaxing time to drive or bike in the national parks. You'll have them to yourself and will likely see a parade of newborn animals. Open businesses like restaurants, spas, and retail stores often have enticing sales and specials and are easy to book, making spring (affectionately known as "mud season") a good time to slow down, relax, and pamper yourself.
Local Tip
In Yellowstone and Grand Teton National Parks, all lodging closes for the winter season except for two hotels that keep their doors open for enthusiasts willing to brave the cold for a once-in-a-lifetime chance to see geysers and winter wildlife. Mammoth Hot Springs Hotel & Cabins can be accessed by car via the north entrance to Yellowstone, and the Old Faithful Snow Lodge & Cabins are reached via snowcoach from West Yellowstone.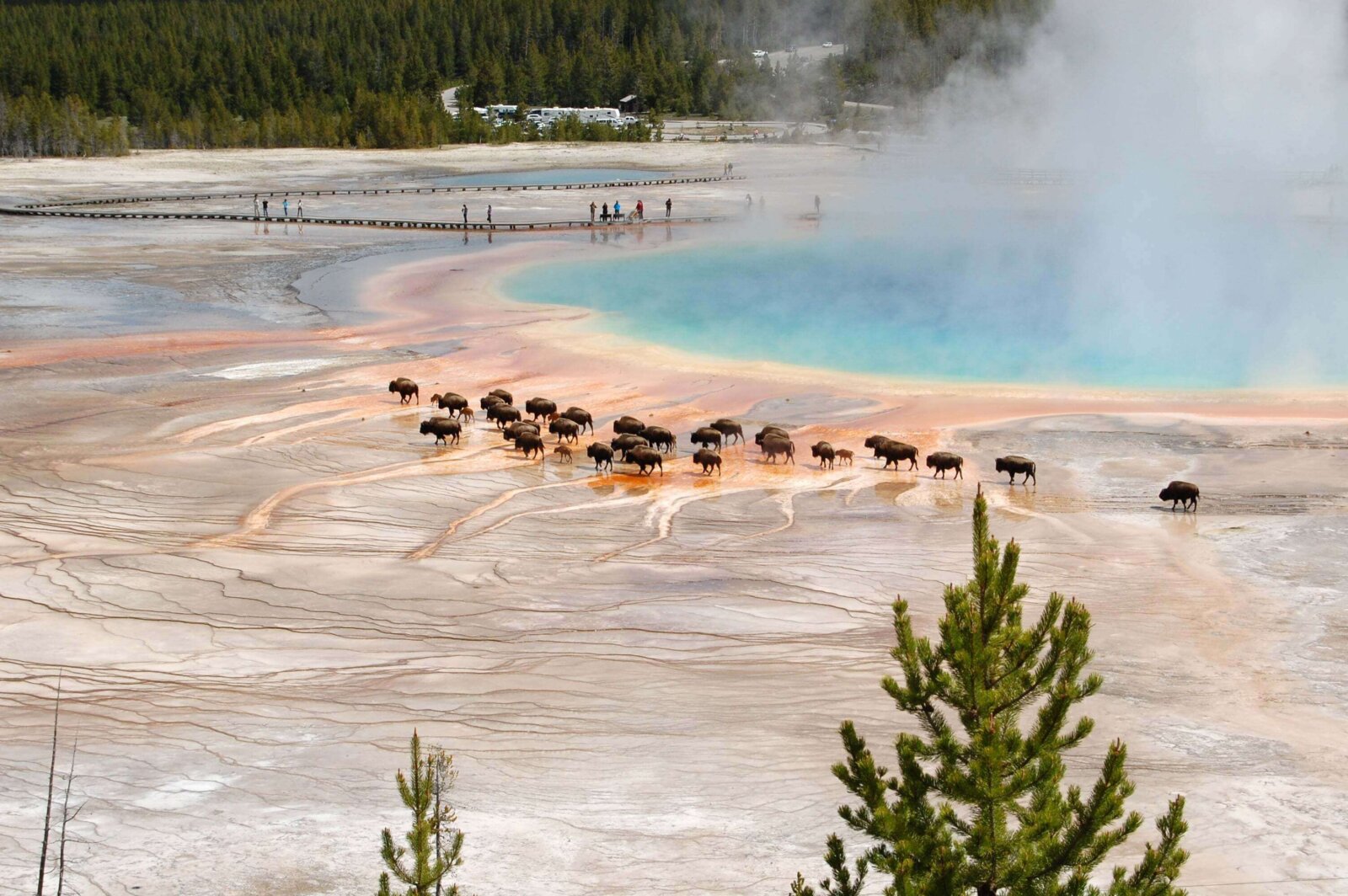 Flight availability and price averages
Despite being small, the Jackson Hole Airport (JAC) offers a good selection of flights and airlines and is a convenient option for those looking to travel to the national parks and surrounding areas. Because we have seasonal fluctuations in visitation, the cost and availability of flights varies, but expect to pay $400 to $600 per person.
Locals often fly in and out of Salt Lake City (a 4 hour, 30 minute drive) or Idaho Falls Airports (a 1.5-hour drive). This can save you a lot of money from certain destinations, especially if you're traveling with a large family or party. However, unless you're a brave and experienced winter driver, this option often isn't worth it from November to April because road conditions are often treacherous, with many unexpected road closures along the way. If you're traveling internationally, flying into either of these airports rarely costs less.
Flight Tips
If you book well in advance, flights to Jackson Hole in the summer can be surprisingly less expensive than slower times of the year because there are so many more flights.
In the winter, it's best to fly out earlier in the day. In case of a weather delay, an earlier delay leaves more opportunities to catch a later flight and reduces the risk of being delayed overnight.
Questions about when to visit