The Ultimate Jackson Hole Ski Trip: Four Day Itinerary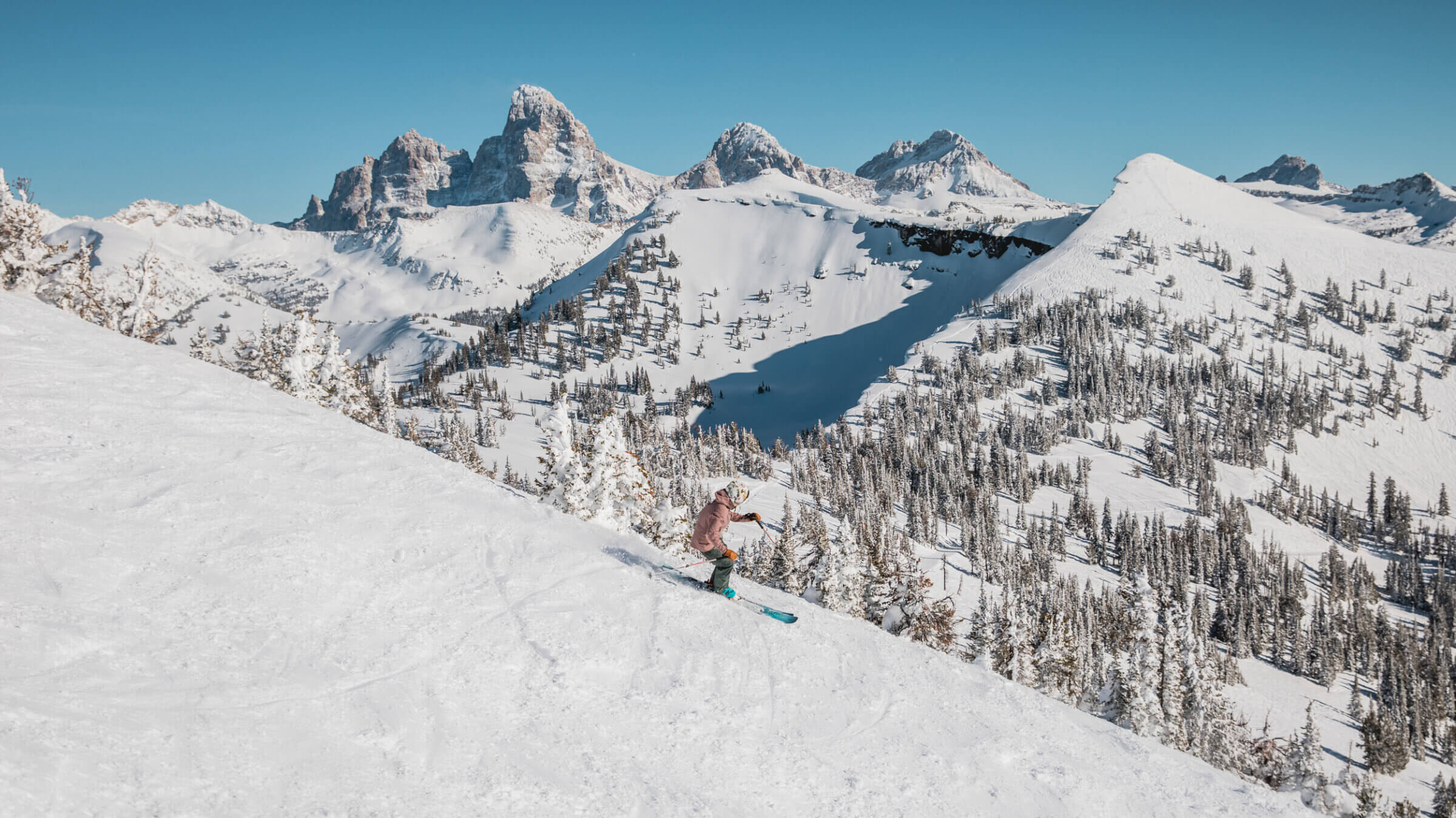 Skiing at Grand Targhee Resort, Photo: Shannon Corsi.
Four days, three ski resorts, two pro tips, and one epic ski trip you won't forget.
With three world-class resorts, miles of terrain, and some of the best snow in the world, sifting through information on skiing in Jackson can take hours. Time better spent plowing through powder! So we're creating a series of ski-centric itineraries for all trip types.
This itinerary is the ultimate Jackson Hole ski trip: four days in which you ski ALL THREE resorts in the region.
Four Day Itinerary: Ski All Three
For skiers: beginner to expert
For groups: solo to large groups
Pro tip: check out Visit Jackson Hole's Daily Report for weather and snow reports for pre-trip planning and in-vacation decisions.
Day 1: Get In and Get Out There
Getting here: The Jackson Hole Airport offers direct flights from over 7 major cities, making it possible to leave home and arrive in Jackson, Wyoming midday. Snap a signature selfie as you get off the plane (Jackson Hole Airport is the only airport INSIDE a National Park), then head to your hotel to check in.
Pro tip: check Jackson Hole Resort Reservations for the best prices on airfare, lodging, and activities, including ski tickets.
Lodging: Since you'll be spending most of your time on the mountains, easy access is key here. In town, try Snow King Hotel and Condos or the Anvil; in the Village, try Gravity Haus or Hotel Terra. More options here.
Activity: Well, you are here to ski after all! The "town hill", Snow King Mountain Resort, offers night skiing and tubing daily, so head there after check in. The scoop on Snow King is that it's steep, at least on the front side that's accessible during night skiing. So take it easy and save your legs for the following days.
Après: Stillwest, directly across the street from Snow King, is a local brewery with some of the best chicken tenders in town. Or Hayden's Post, at the base of the mountain inside Snow King Hotel, crafts margaritas and signature espresso martinis for those looking for something stronger. More in-town après options here.
Day 2: A Day In the Village
The Lingo: "The Village" is how locals refer to the base of Jackson Hole Mountain Resort, or "JHMR", complete with shops, restaurants, and lodging. It's roughly a 15 minute drive from downtown Jackson.
Activity: First tram. Getting first tram is a Jackson right-of-passage everyone should experience once in their lifetime. The 100-person cable car takes you to the highest in-bounds skiable peak in the Tetons. Get there early (the line forms before the mountain opens) and be rewarded with coffee, waffles, and hundreds of vertical feet of skiing or riding.
Activity: Spend the day exploring Jackson Hole Mountain Resort. The largest and most famous ski resort in the area has a pocket for everyone.
Après: You can't go wrong with a restaurant in the Village, but some lesser-known options nearby offer more of a local vibe with less of a wait. Try your luck at Teton Thai or Corsa. More shopping and dining options in the Village.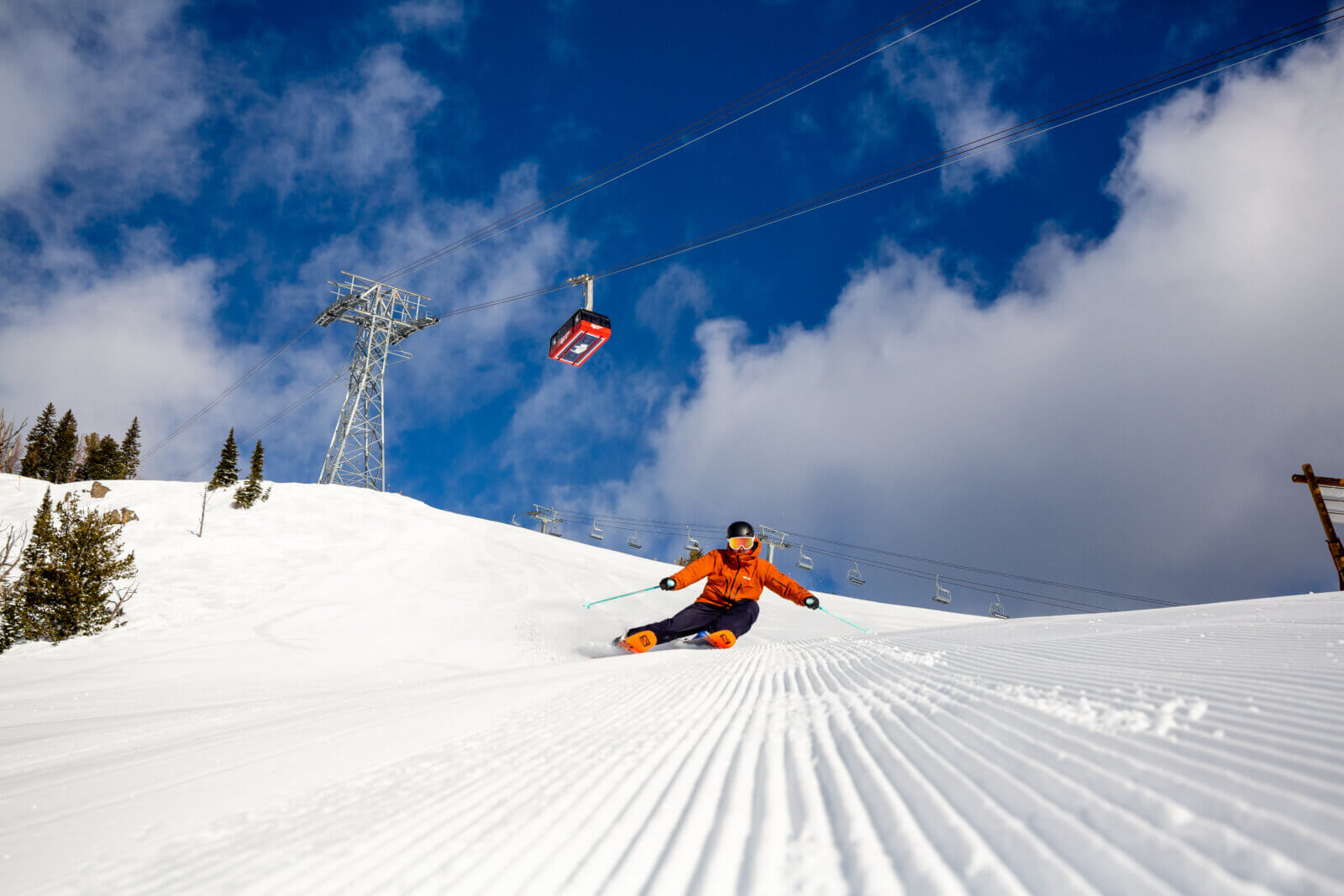 Day 3: Ski the Ghee
Breakfast: Nora's. On your left just before you venture over the pass, you'll find a log cabin diner with pancakes that alone are worth the trip to Jackson. Do yourself a favor and stop. Or see what else is available in Teton County, Idaho.
Activity: Round out your ultimate ski vacation with the third and final ski resort in the area, Grand Targhee. Sitting on the other side of the pass in Alta, Wyoming and offering views of the backside of the Tetons, "the Ghee" should not be overlooked. It's known for varied terrain, an "undiscovered" feel, and a windy summit (but oh, so worth it!).
Après: The Trap Bar at the base of Grand Targhee has a hometown feel and regular live entertainment, or the Stagecoach on your way back into Jackson offers street food good enough to revive exhausted skiers.
Day 4: Repeat
Activity: If your legs have more fight left, take them on a short cross-country ski to work out the lactic acid. You can also take a few more runs on the mountain you enjoyed the most. Or stick to the hotel hot tub (no one would blame you).
Breakfast: There are some who say "if you didn't go to Persephone, did you even go to Jackson at all?". On your way out of town, stop by one of their locations ("Picnic" is in the same restaurant group) for breakfast and coffee on the go.
Activity: Plan round 2. The Jackson Hole Airport is the perfect spot to plan your return visit to Jackson. One where you have the terrain dialed and, if you're up for it, you can dabble in backcountry skiing for experts.