Three-Day Jackson Hole Ski Itinerary for Families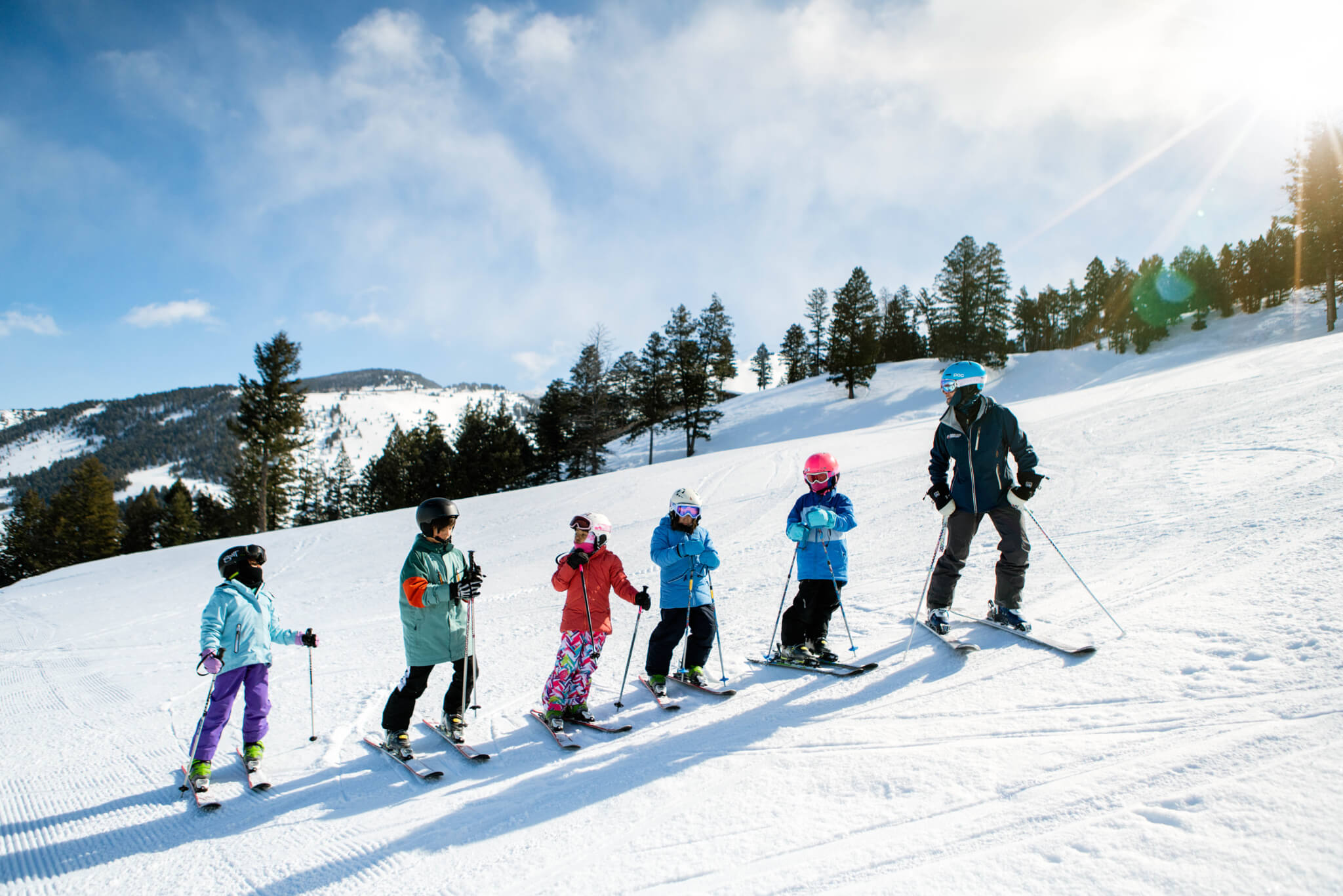 A full three-day, four-night ski trip itinerary for the whole family.
Jackson Hole, Wyoming has a little something for everyone in the winter, from the 5-year-old to the 85-year-old. If you know where to look, local slopes can be chosen to fit the ability and preferences of each family member and guided experiences are tailored to each person's needs.
This itinerary will get you through a family ski trip with very little tears, minimal yelling, and unforgettable memories.
For skiers: first timers to long timers
For groups: families of all sizes
Pro-tip: Always pre-book lift tickets and ski lessons to ensure availability! And try a mid-week vacation if you're looking for a short lines and affordability.
Getting here: If you're driving, set your navigation straight to The Village and plan to arrive just in time for check in at your vacation rental. If you're flying, book through Jackson Hole Resort Reservations and a personalized agent will let you know the best time to arrive (often the night before your ski vacation is set to begin).
Getting around: The Jackson Hole Airport now offers an affordable shuttle from the airport to town. From there, public transportation easily gets you and your skies around town and out to The Village (the base of JHMR). So no need to rent a car, even for families visiting Jackson! Just plan ahead using the START mobile app.
Lodging: For families, we recommend searching Rendezvous Mountain Rentals or Outpost Vacation Rentals with your location set to "Teton Village" or "The Aspens".
Rentals: Prior to arrival, arrange rentals for the entire vacation from Black Tie Ski Rentals. They'll come directly to your vacation rental with all the right gear to outfit the whole fam and will even custom fit your ski boots right in your living room.
Day 1: All Day with a Guide
Breakfast: Cafe 6311, aptly named for the elevation at which it sits, is perfect for coffee and breakfast on the go before hitting the slopes. Especially since it's just steps away from the meet-up spot for lessons.
Activity: An all-day lesson or guided experience at JHMR is the perfect place to start your Jackson ski trip. They'll tailor the experience to the exact skill level and terrain preference of your group, hand selecting runs just for you. If the skill level of the family differs, split up into multiple groups but let your guides know that you want to meet up for lunch.
Après: The Mangy Moose, located in the Village, is an all-time family favorite. It's nothing fancy, but chicken tenders for the kiddos and a burger with a beer on tap for the parents is the only way to finish day one on the mountain.
Tip: Après is a feeling, not a time. When your body, or the kids, tell you it's time, mosey to the Moose (even if it's 11am).
Day 2: New Tricks
Breakfast: Waffles at the top of the tram are world-famous, for good reason! Nothing tastes better than a waffle with bacon and peanut butter at 10,000 feet. From there, the expert skiers can start their day at Rendezvous Bowl and the beginners and intermediates can ride back on the tram to access easier sections of the mountain from the base.
Activity: Show off your new tricks by trying your hand at the many sections of JHMR. Beginners, tackle the runs accessed from the Teewinot Chair. Intermediate skiers, spend the morning on Après Vous and the afternoon on Casper. Experts, Thunder and Sublette are your chairs.
Dinner: From Teton Village, head South on the START bus and you'll find Calico about 10 minutes away. This Italian-style restaurant is one of the best around and has something for the kids, the parents, and the grandparents.
Activity: Try another winter sport in Jackson Hole – ice skating. The Village turns into a winter wonderland in the evening with ice skating under bistro lights and hot chocolate to keep everyone warm. Ice skate rentals available right at the rink.
Day 3: King of the Mountain
Activity: Change pace and take on a different mountain. "The Town Hill", Snow King Mountain, offers awesome skiing and boarding if the family is up for another day. Just head to the backside of the mountain to enjoy sunshine and easy slopes. Even if the family isn't up for more skiing, Snow King offers snow tubing and an alpine coaster for entertainment that doesn't require leg muscles.
Lunch: On the corner of Town Square is one of the best family-friendly restaurants in town – Jackson Drug. A historic drug store and soda shop, the location stays true to its roots with soda, smash burgers, and milkshakes.
Activity: To wind down from three days of skiing, visit the Teton County Rec Center. For kids, there's a kiddy pool and a water slide and for adults there's a hot tub and a sauna. Need we say more?
Dinner: As you pack and get ready to head out of town, order take-out from Teton Thai. Their flavorful dishes can be ordered mild to spicy and offer heat and comfort for your last meal in Jackson.
---
From awe-inspiring encounters with nature to wild and western activities every kind, Jackson Hole offers once-in-a-lifetime experiences, 365 days a year.
Eager to glimpse your first bear, moose, or wolf? Challenge yourself with a run down black diamonds or class III rapids? Hook an 18-inch cutthroat? Meet a real cowboy? Watch a Teton sunset? This place is full of experiences you won't find that at home, or anywhere else for that matter. In Jackson Hole, wild adventures aren't just possible—they're already here waiting for you.