Your Family Friendly Guide to Jackson Hole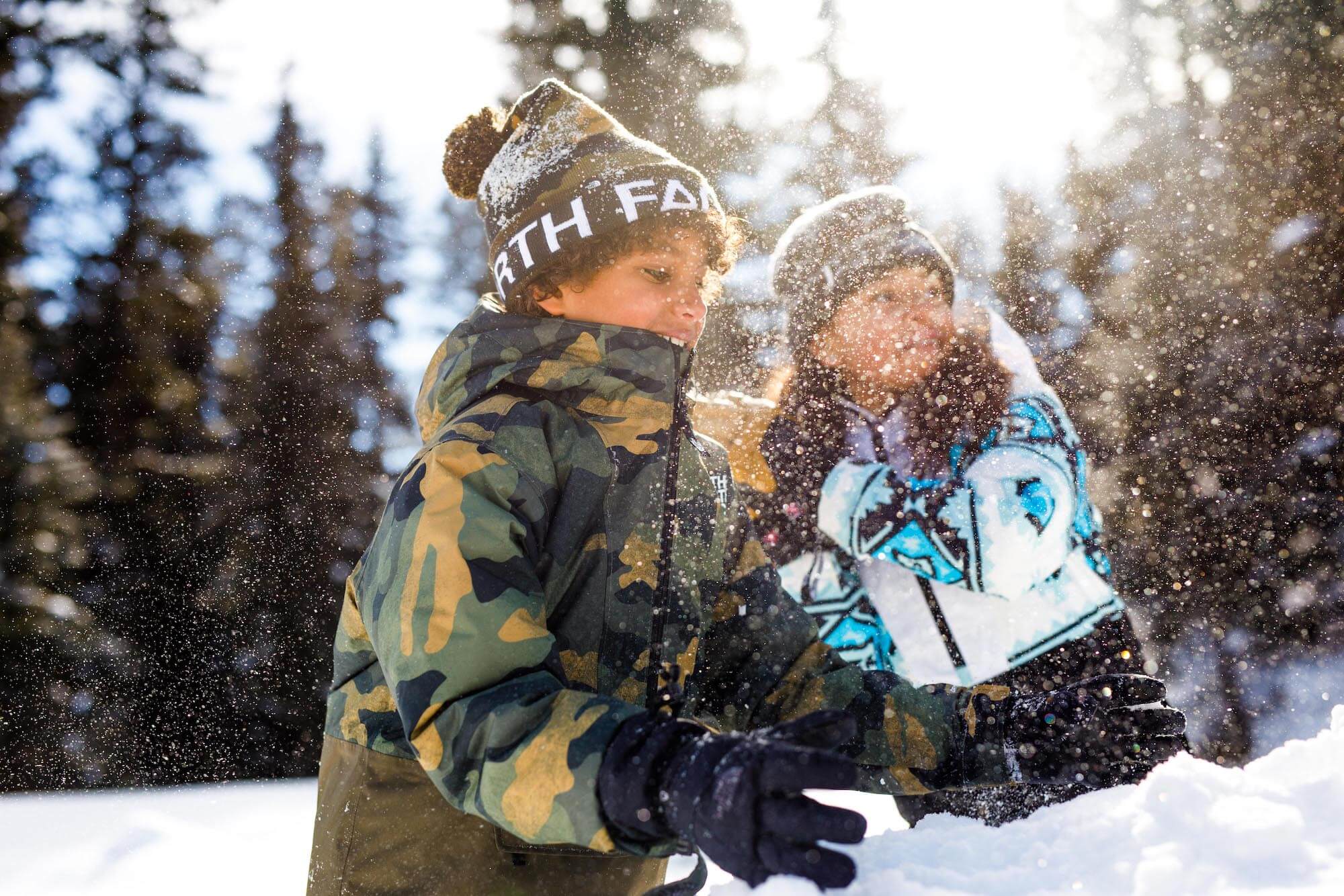 Kids Playing in Snow, Photo: Sofia Jaramillo.
---
Jackson Hole is what childhood dreams are made of.
Wildlife. Adventure. Wide-open spaces. Cowboys. Whether your brood includes a wild child, curious cat, or old soul, there are so many ways to be wild together. With three ski resorts and two national parks, there's so much to do that we doubt you'll ever hear the words "I'm bored."
Spring
Spring in Jackson Hole is a time of transition that offers unique opportunities for exploration and discovery. While the ski resorts may be closed and some summer businesses are still preparing to open, there are still plenty of outdoor activities to enjoy. One unique and memorable activity only available this time of year is biking or strolling on Grand Teton National Park roads while they're still closed to vehicles. You can also hike on frozen snow from the Taggart trailhead, and, with experienced Nordic skiers, "crust cruise" over frozen fields.
As the snow melts and spring arrives, wildlife in Jackson Hole becomes more active. Keep your eyes peeled for glimpses of curious animals as they emerge from their winter habitats, offering a fantastic chance for budding photographers and nature enthusiasts.
If the weather is unpredictable or the trails are too muddy, check out our newly remodeled Teton County Parks and Recreation Center, or one of our many museums and art galleries. Soak in a natural hot spring at Astoria Hot Springs or spend a day at one of the interactive centers that offer engaging and educational experiences for the whole family.
Summer
We recommend you visit for at least a week to experience even a taste of all Jackson Hole has to offer—hiking, mountain biking, wildlife tours, whitewater and scenic rafting trips, rock climbing, swimming, paddleboarding, canoeing, kayaking, camping, backpacking, fishing, and horseback riding, just to name a few. While it can get busy during the summer months, the bustling atmosphere adds to the charm of the destination, creating a sense of community and excitement.
You can't go wrong with trying things out and honing your skills at one of our easily accessible adventure parks. At the bottom of Snow King Mountain in Phil Baux Park is Teton Boulder Park, an artificial bouldering wall with various levels of difficulty where kids can climb for free. If your kids are the competitive type, they can test themselves against Jackson's best at the weekly Town Pump, where everyone from world-class climbers to kids as young as 10 come out for camaraderie and supportive competition.
Up on Snow King Mountain, the Treetop Adventure is an extensive network of tree-to-tree obstacles that progress in difficulty where the whole family can play together. The Flying Squirrel is a kids-only course for 6- to 12-year-olds. With a Big King Pass, the family can spend the whole day at Snow King experiencing the Alpine Slide, Cowboy Coaster, Amaze'n Maze, bungee trampoline, mini golf, and scenic gondola ride. Kids 12 and up can ride North America's steepest zip line for an extra charge.
Jackson Hole Mountain Resort's lift-serviced mountain bike park is the best place to gain confidence riding technical terrain, and it has a full-service rental shop and guides for all you need to be safe. For more experienced riders, a trip over Teton Pass to Grand Targhee will take you to one of the top mountain bike parks in the world, with extensive cross-country and lift-serviced downhill trails.
Fall
Fall holds a special place in the hearts of many locals in Jackson Hole. With fewer crowds and less traffic, the tranquil ambiance allows you and your family to enjoy the serenity and beauty of the region at your own pace, rejuvenate your senses, and relish the slower pace of life.
The human-powered activities that attract visitors in the summer continue well into the fall—we recommend mountain biking, rock climbing, hiking, fishing, or floating the rivers surrounded by the stunning fall foliage that blankets the landscape. While some attractions and guide services may close for the season as we get closer to October and November, this presents a unique opportunity to be self-sufficient.
Fall in Jackson Hole also brings the mesmerizing phenomenon of elk bugling and the annual rut. Listen for the resonating calls of the elk as they vie for mates throughout Grand Teton and Yellowstone National Parks, and you may even witness thrilling displays of bulls sparring with each other. This unique wildlife spectacle is not only a fascinating educational experience for your children, but we bet parents will be captivated too.
Winter
With three world-class ski resorts in Teton County, skiing and snowboarding are the top activities for families in the winter. All our ski areas have kid-friendly terrain parks featuring creative trails, obstacles, and jumps. At both Grand Targhee Resort and Jackson Hole Mountain Resort, entire lifts are dedicated to beginner terrain with all sorts of fun trails and obstacles, expertly designed to entertain kids while developing their skills. For first-timers, we recommend hiring an instructor at Snow King Mountain, who will take you to the magic carpet at the top via a new gondola with stunning views of the Tetons. Nordic skiing is an activity that kids as young as 5 can try out; our partner JH Nordic Alliance offers an extensive rundown of the best trails for parents with kids in tow.
There are plenty of other outdoor activities for non-skiers or rest days, including the must-do sleigh ride on the National Elk Refuge, dog sledding, winter wildlife tours, a soak in Astoria Hot Springs, or a guided snowmobile trip to Granite Hot Springs. For kids of all ages, wrap up your day with an hour or two of thrills at King Tubes, the tubing business, at the base of Snow King Mountain.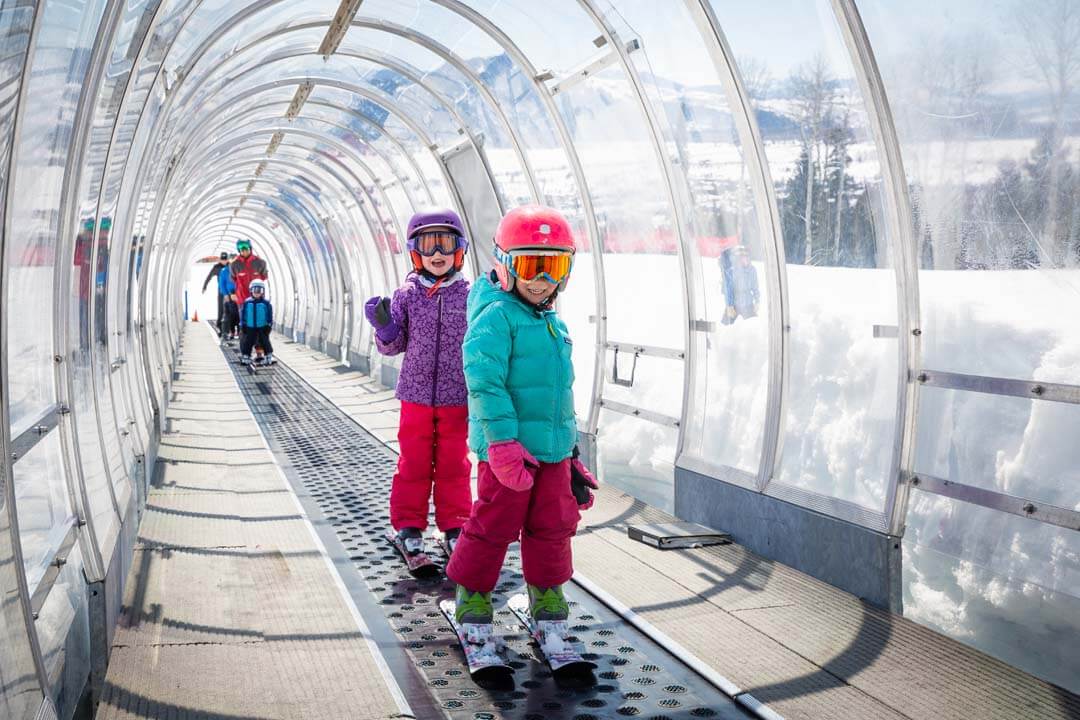 Inspired by Nature
Before heading into Grand Teton or Yellowstone National Parks, a stop at the Craig Thomas Visitor Centerin spring, summer, or fall is a must-do. Not only will the kids get set up with everything they need to participate in the popular junior ranger program, but you'll also learn through interactive exhibits all about the flora, fauna, and natural and human history you're about to experience.
For a deeper dive into nature, a wildlife tour is highly recommended; for younger children a half-day tour is plenty. If you visit in the winter, a sleigh ride out to the middle of the massive elk herds on the National Elk Refuge is another must-do. The sleighs are open air, so dress warm and bring lots of layers. The Teton Raptor Center is another way to get up close to our amazing wildlife. They offer a variety of free and private programs where you can learn about owls, osprey, eagles, and falcons, and even get to meet them up close.
These Yellowstone- and Grand Teton-inspired kids' books recommended by our local independent bookstore, Jackson Hole Book Trader, are a great way to connect and learn more about our culture and wildlife:
Taste of the West
Western culture is a huge part of who we are, and for many kids, experiencing it is the highlight of their trip. No visit to Jackson Hole is complete without experiencing the biweekly Jackson Hole Rodeo, land if you're lucky enough to be here during the Teton County Fair (often in late July), rodeos and horsemanship competitions, 4-H exhibitions, rides, pig wrestling, figure-8 races, and country music concerts round out a week of Western tradition and hospitality.
True Western-themed hospitality can be found at Bar T 5, Jackson Hole's original chuck wagon dinner experience. After a wagon ride to Cache Creek and dinner cooked cowboy-style, you'll be entertained by storytelling and hand-clapping music.
The Jackson Hole Playhouse is a different dinner theater experience that produces a family-friendly rowdy musical comedy to entertain you while you dine on fresh, delicious food surrounded by period antiques in Jackson's oldest building, which was built in 1915 as a livery stable.
Chill
For a more rest-filled day, we recommend a visit to the Astoria Hot Springs pool (open year-round) or the more remote Granite Hot Spring (accessible by car in summer and fall or snowmobile and dog sled in the winter). Grab the makings of a picnic and take a ride on the new gondola to the summit of Snow King Mountain or the tram at Jackson Hole Mountain Resort.
When the weather is unsettled or you're just ready for some culture and learning, the Jackson Hole Children's Museum is packed with hands-on interactive exhibits and programs in the arts, sciences, ecology, and history.
The National Museum of Wildlife Art features an expansive collection of wild works from around the world and has a special children's exploration area and a family-friendly restaurant, Palate. Don't miss the outdoor sculpture walk for up-close, life-size sculptures of the area's wild animals with stunning views of the National Elk Refuge.
The Jackson Hole Historical Society and Museum is packed with exhibits that illustrate the past and its connection to the present and future of Jackson Hole through local stories, traditions, places, and artifacts.
The Teton County Library welcomes visitors and has an entire wing dedicated to children and teens, and is a great place to chill for a few hours. Other options include the Movie Works Cinema and the Teton County Parks and Recreation Center featuring an aquatic center with a new climbing gym coming soon.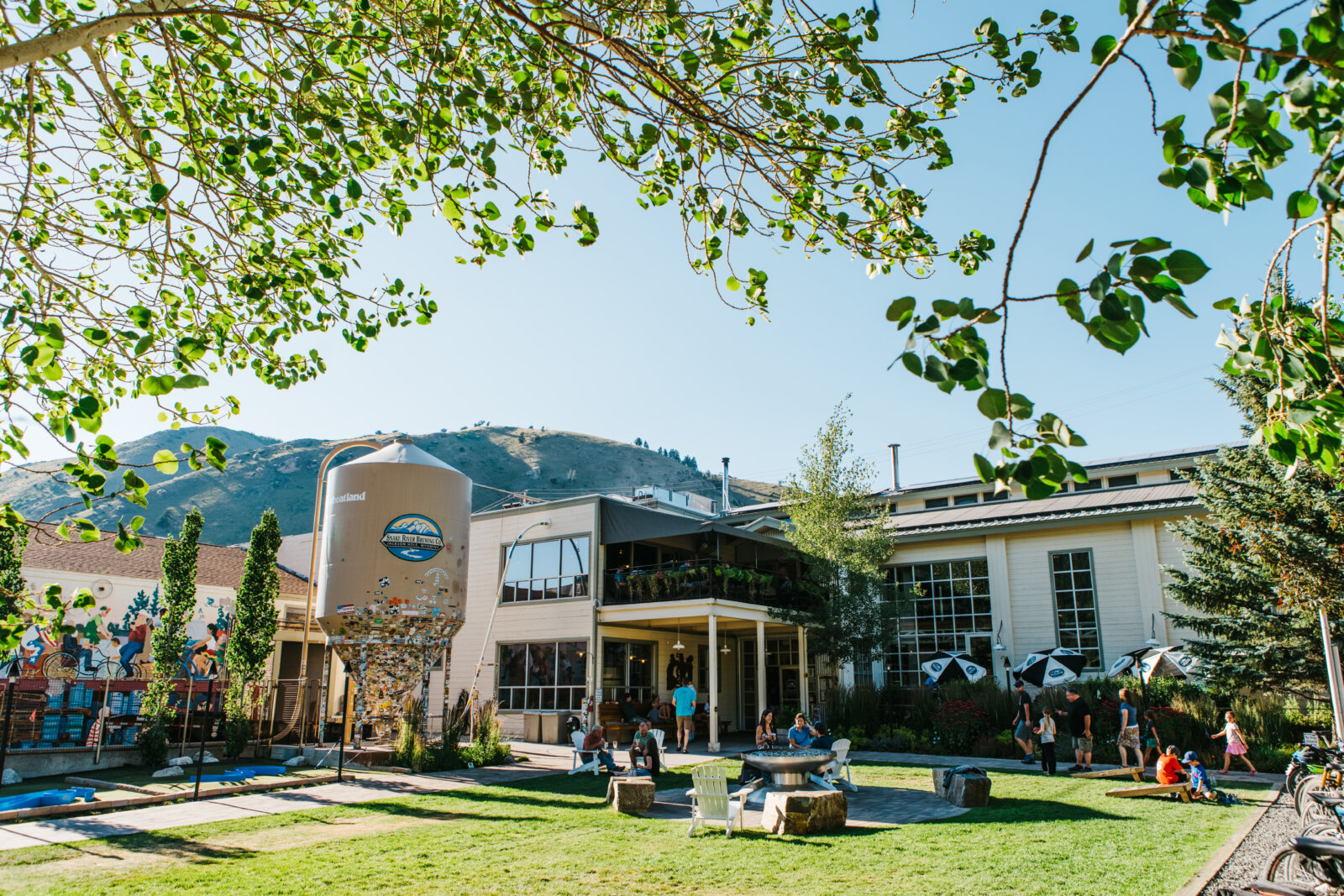 Cool spots for hungry kids
This iconic breakfast spot on the Town Square can be busy at peak times but worth the wait. Splurge and let the kids add strawberry filling and sprinkles to the O.S.M. waffle (they won't know their breakfast consists of whole wheat, oats, sunflower seeds, and millet).
If you have a rowdy bunch who needs hot, cheesy satisfaction in a snap (and you need a cold beer), Pinky G's giant slices of New York-style pizza are your best bet on the Jackson Town Square. A few board games are available to play while you wait.
A majority of the downstairs of this neighborhood hangout is off-limits for those under 21, but the upstairs and the decks filled with yard games and a fire pit are kid-friendly. (A secret: The din of the bar below drowns out children's screams.) While you sip a pint, order the kids a big bowl of spaghetti and marinara along with a homemade pretzel. Get them to behave by bribing them with homemade s'mores.
With a gigantic yard where kids can play, this is a perfect spot in the summertime. The porcini mushroom ravioli on the kids' menu is a great deal for only $3.50. Be sure to stroll through their organic garden in the backyard for an impromptu farm-to-table lesson.
For times when you need more than sunsets and moose to entertain you, Sidewinders is a guaranteed home run with large-screen TVs, a kid's arcade, big tables, high chairs, and chicken fingers. Bonus: The Wilson location is just across the lawn from Calico and offers the same shared outdoor space for kids to frolic in the summer.
Getting around the Greater Yellowstone region involves long car rides at times. Download the TravelStorysGPS App to deepen your travel experience with audio guides featuring local voices telling stories about Jackson Hole lore to accompany you just about anywhere you go.
Tips for embracing the great outdoors with kids
Exploring the wonders of nature and engaging in thrilling outdoor activities with your children is an art that balances excitement and comfort. Here are some tips to ensure wild times and create a love of the outdoors.
Plan ahead
The secret to crafting unforgettable family memories lies in preparation. Equip yourself with the right knowledge, appropriate clothing, and necessary gear. Take breaks along the way and fuel up on snacks to keep the energy high. Stop by the Town of Jackson Visitor Centers, US Forest Service offices, National Park Visitor Centers, or outdoor shops for valuable local insights on the conditions and difficulty levels of various adventures.
Be self-sufficient
Load up on essentials like water, snacks, sunscreen, bug spray, bear spray, a first aid kit, and paper maps. A reliable weather app that tracks storms and lightning is invaluable. While optional, binoculars can add an extra layer of excitement to your journey.
Start close to home
Begin your outdoor escapades with nearby teaser adventures. Take a short hike around Rendezvous Park or the top of the Snow King Gondola. Try out mountain biking on the Elk Refuge Road or explore the two-track on Cache Creek before hitting the harder trails. Consider a scenic float before tackling whitewater adventures. These introductory experiences will gently introduce kids to the environment, ensuring a smooth transition to more adventurous activities.
Embrace early birds
Whether you're hitting the slopes, visiting String Lake, or dining out at any time of the year, being an early bird pays off. Arriving early allows you to beat the crowds and fully immerse yourselves in the natural beauty and serenity that surrounds you.
Be a shining example
Set a positive example for your children by being patient, kind, and respectful toward people, animals, and ecosystems. Flexibility is key, so don't hesitate to adjust plans or turn back if circumstances (such as weather, endurance, or attitudes) require it. Teach your children that "the wild rules" by keeping at least 100 yards away from wildlife, staying on trails, and leaving no trace.
Consider a guide or instructor
When venturing into outdoor adventure sports, a solid technical foundation is crucial for safety and an enjoyable experience. Opting for a guide or instructor who specializes in working with children ensures the best learning environment and a swift progression.
By following these tips, you'll ignite a love of the outdoors, instill a sense of adventure, and foster a deep appreciation for the natural world in your little explorers.
---
From awe-inspiring encounters with nature to wild and western activities every kind, Jackson Hole offers once-in-a-lifetime experiences, 365 days a year.
Eager to glimpse your first bear, moose, or wolf? Challenge yourself with a run down black diamonds or class III rapids? Hook an 18-inch cutthroat? Meet a real cowboy? Watch a Teton sunset? This place is full of experiences you won't find that at home, or anywhere else for that matter. In Jackson Hole, wild adventures aren't just possible—they're already here waiting for you.